Cheez Whiz®, that icon of the midnight snacking world, is actually considered a "processed cheese sauce" by its creator, Kraft Foods. Kraft Foods introduced the product in 1952, although its popular predecessor, a thicker processed cheese food called Velveeta®, had been on store shelves since the 1920s. While Velveeta® worked well in recipes calling for a melt-able cheese, it still remained fairly solid at room temperature. By adding various stabilizers and extenders, Kraft's food engineers were able to create a cheese sauce which would still be soft at room temperature. Cheez Whiz® was the final result of those experiments.
Most people use Cheez Whiz® as a cheese-flavored dip for snack items such as crackers, potato chips and corn tortilla chips, but it can also be mixed with diced onions, cilantro and jalapeño peppers to form salsa con queso. Because it remains viable at room temperature, it can also be offered as a condiment for hamburgers, hot dogs and other sandwiches. One of the most popular uses of the sauce is as a topping for authentic Philly cheese steak sandwiches. Customers at the popular Philly cheese steak stands in Philadelphia often order their sandwich "Whiz wit," meaning a topping of heated Cheez Whiz® and grilled onions.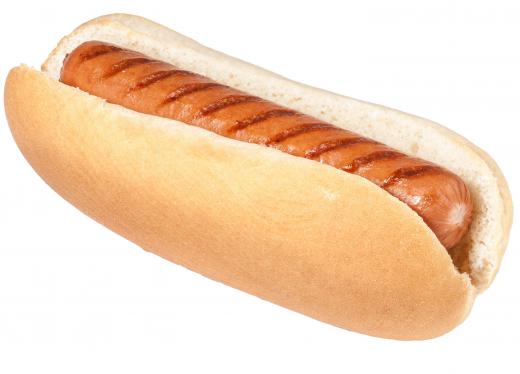 While processed foods in general have been criticized for years, the makers of this and similar dairy-based products have recently come under fire for using an illegal, or at least unapproved, additive called Milk Protein Concentrate, or MPC. In the case of Cheez Whiz®, MPC is used primarily to eliminate some of the inherent problems of cheese solids. When milk is filtered through an ultra-fine mesh, the result is a concentrated form of milk protein that has the ability to lock in more whey and water than traditional cheese proteins. MPC has not been approved as a food additive by the US government, however, so its continued use is somewhat controversial.
One surprising use for Cheez Whiz® is as a homemade stain remover for grease-based stains. Certain natural enzymes found in this product have the power to break up organic greases and oils, so a number people have been known to use it as a pre-wash cleaning agent. A generous supply of the cheese sauce should be worked into the soiled area and allowed to sit for ten minutes before washing. Even if it is not destined to be a pantry item, it can still be kept with other laundry supplies in a utility room.
AS FEATURED ON:
AS FEATURED ON:








By: Springfield Gallery

Cheez Whiz® may be served as a condiment on hot dogs.

By: efired

Cheez Whiz is one of the most popular midnight snacks.