Cherry cobbler is a classic American fruit dessert made with cherries and a thick upper crust. This deep dish pie is especially popular during the summer months, when cherries are in season and it can be made with fresh cherries, although it is also possible to make cherry cobbler from frozen cherries. There are several variations on the basic cherry cobbler which people may use to make the dessert more interesting, and this dish is also very easy to make, which can be a distinct advantage for cooks in a hurry.
Cobblers are a family of American desserts which include seasoned fruit which is baked in a deep dish or bowl. The fruit is covered with a topping made from biscuits or scones. As the cobbler cooks, the topping browns and develops a slightly bubbly appearance, and the fruit juices often squeeze up through the cracks in the topping and caramelize, creating a sweet, rich syrup. Cobblers can be served hot or cold, and they are often paired with whipped cream or ice cream.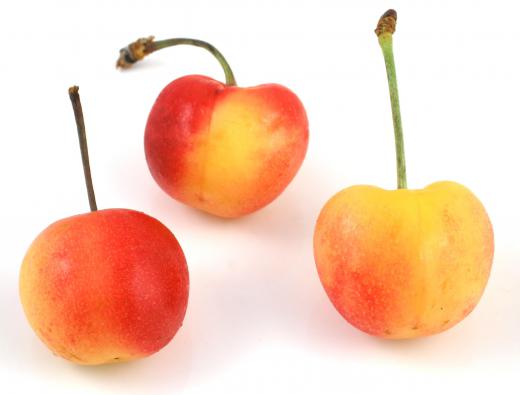 Sweet or sour cherries can be used to make cherry cobbler, and the cobbler may include a mixture of fruits, such as cherries and peaches, or cherries and blackberries. The fruit is typically sweetened, and it may be spiced with cinnamon, nutmeg, and other spices, or jazzed up with the addition of orange or lemon peel. The topping for the cobbler can vary from a very plain biscuit recipe to a complex buttermilk scone recipe, and the cobbler may be dusted with chunks of sugar in some regions.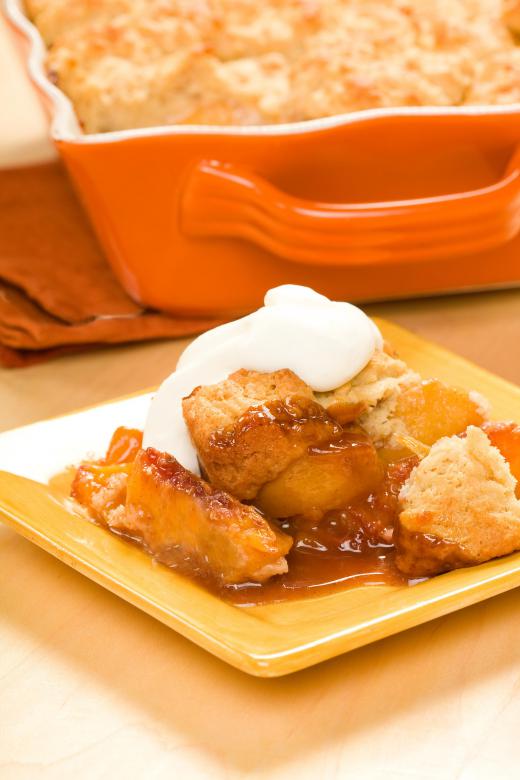 Assembling cherry cobbler does not take very long, and the dessert usually bakes in around 40 minutes, depending on how thick it is. Cooks may bring cherry cobbler to potlucks and other public events in large pans, or serve it at home as an after dinner treat. This simple dessert is also very easy to make with children, and some parents may use it as an introduction to the basics of cooking and baking for children who are interested in learning to cook.
The cobbler is distinct from the crisp, another American fruit dessert which features fruit in a deep dish, because crisps use a crumb topping, rather than a solid biscuit or scone topping. Buckles, another fruit dessert, involve a cakelike dough which is poured into the bottom of the pan before the fruit. Other related desserts include the grunt or buckle, the brown petty, and the pandowdy.
AS FEATURED ON:
AS FEATURED ON:








By: Harris Shiffman

Cherry cobbler is often best when made with fresh, pitted cherries.

By: msheldrake

Cherries may be mixed with other fruits like peaches to make cobbler.

By: Jeppestown

Sour or sweet cherries -- fresh or frozen -- can be used in cherry cobbler.