Dump cake may not have the most flattering name but it is a dessert that many people rave about. The name cake is a little bit deceptive and some people prefer to call a dump cake a version of cobbler instead. When people are not praising its delicious taste, they're often celebrating how quick and easy this dessert is to make.
A dump cake is usually a combination of canned fruit, with cherries and pineapples being some of the most preferred. Fruit is usually drained and combined on the bottom of a baking dish. Next, people add yellow or white cake mix, simply pouring the mix right over the fruit. Recipes vary but most then direct people to add slices of butter on top of the cake mix. When the cake is baked it has a lovely top crust that is buttery over a layer of sweet fruit.
It's difficult to find dessert recipes that are easier to make than the dump cake. With the exception of stirring the fruit, you really need to do very little to assemble this cake. It's a great recipe for beginning cooks, especially young ones. Even little kids can make these because they usually don't have to measure ingredients.
You can change the way this dessert tastes by changing fruits you use. Though canned fruits are frequently recommended, you can also use fresh fruit. Some people have suggested combinations that will make these cakes special and unusual. You can find recipes for this dessert made with cooked rhubarb and strawberry gelatin. If you want fruit to be slightly sweeter, you can coat the fruit with sugar and allow it to macerate (soak in its juices for a couple of hours), or if you're in a hurry, you can use canned pie filling for just about any type of fruit pie.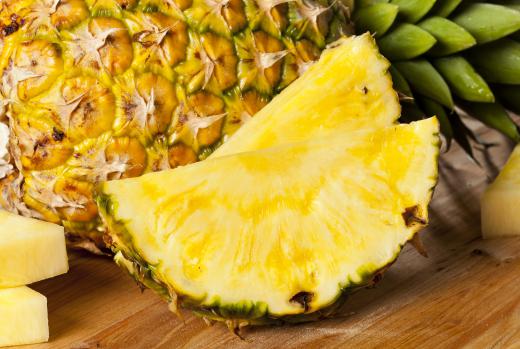 For those of you who must have chocolate with dessert, there are chocolate recipes for dump cake. These are similar to those using white or yellow cake mix, but instead substitute chocolate cake mix. One popular recipe is a take on the black forest cake, where you place chocolate cake mix over canned cherries or cherry pie filling.
Sometimes the term doesn't refer to the cobbler like the dessert just described. Instead, some people may call any cake a dump cake if you can mix all its ingredients in one bowl. Usually cakes require several bowls that separate dry and wet ingredients, which can get complicated. Quick cakes are often of the "dump" type and many cake mixes can also be made in one bowl.
AS FEATURED ON:
AS FEATURED ON:








By: HamsterMan

Cake mix for dump cake.

By: Brent Hofacker

Dump cakes often feature pineapple.

By: EM Art

Most dump cakes feature canned fruit.

By: fotogal

Some dump cakes feature the addition of cooked rhubarb.