What is Chicken Cacciatore?
Chicken cacciatore is a classic Italian dish, also referred to as hunter's stew. Early recipes may have been made with rabbit or chicken, and each recipe was adapted for those who might be traveling or hunting for several days and would require an easy to prepare recipe for outside cooking.
The traditional version of this dish is a combination of chicken, mushrooms and spices. The most common spices used are thyme, parsley, and oregano, as well as salt and pepper. The dish also receives flavor from the addition of garlic and onions.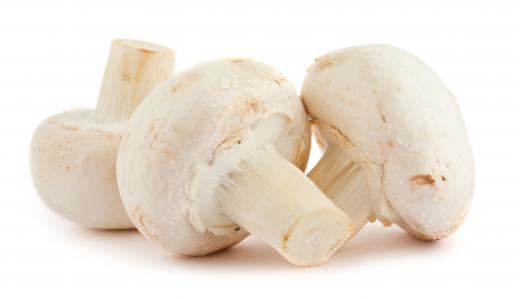 As the chicken stews the result is a brown gravy. Many mistakenly think they are preparing chicken cacciatore by adding tomato sauce or crushed tomatoes. These do not make up part of the original version, and result more in a meat sauce with chicken that might be a topping for pasta.
Chicken cacciatore in its most conventional form, uses the dark meat of the chicken, which is fattier and will yield a more luscious sauce. The meat would have been cooked until it was literally falling of the bone. Most modern chefs find that cooking the chicken for less time generally makes it easier to eat. Cooking the chicken for too long tends to result in creating a pile of little pieces of chicken, and the cook must fish out the bones, particularly the splinter bone of the legs as these are a choking hazard.
Chicken cacciatore lends itself particularly well to being prepared in a crock-pot or slow cooker. The only preparation, besides slicing the mushrooms, onions, garlic and parsley, is that one must flour the chicken and fry it for two to three minutes on each side, before adding it to the pot. If possible, the mushrooms should not be added until the last half hour, since overcooked mushrooms tend to lose their taste and texture.
When finished, chicken cacciatore can be served alone, or over either rice or pasta. Many cooks prefer rice, as the sauce has a somewhat starchy quality when augmented by the pasta. If serving this dish without pasta or rice, the dish is often best served with a crusty Italian or French bread, so one can sop up the luscious sauce.
Since most modern recipes add tomatoes, the result will not be quite the same, but is also very tasty. The proportions tend to be approximately two pounds (.90 kg) of chicken to one pound (.45 kg) of tomatoes. Once the chicken has been fried on each side, all but the mushroom are added. The mushrooms are usually added during the last 20 to 30 minutes of cooking. The dish is left to simmer on very low heat from an hour to two hours depending on the degree of firmness one wishes in the chicken.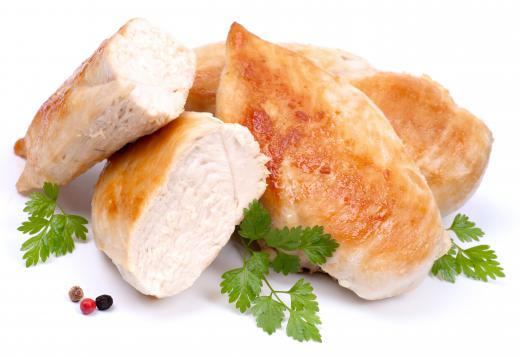 Because of its ease in preparation and its use of dark meat, chicken cacciatore is a wonderful dish to prepare for large parties or large families. One can bulk purchase legs and thighs of good quality for much less than purchasing breasts. To lend a little more Italian flavor to the dish, a quarter cup of Marsala or red wine can be added as the chicken cacciatore simmers.
AS FEATURED ON:
AS FEATURED ON:








By: mbongo

Mushrooms are usually included in chicken cacciatore recipes.

By: Tim UR

Garlic and parsley are ingredients in chicken cacciatore.

By: Barbara Pheby

Parsley is commonly used to season chicken cacciatore.

By: Christian Jung

Chicken breasts are a key ingredient in many culinary dishes.

By: Taiga

Oregano is commonly added to chicken cacciatore.

By: Joe Gough

Chicken cacciatore is often served over pasta to soak up the sauce.

By: nebari

Cooking chicken cacciatore for too long may result in a choking hazard due to the small bones.