Chicken Marsala is a popular chicken dish with a wine and mushroom sauce. The dish name originates from the particular wine, Marsala, used to create the sauce. The wine is reduced to make a rich, thick sauce that often contains onions or shallots as well as various spices and mushrooms.
Marsala is produced in Sicily, Italy, and is one of the country's most famous wines. Its flavor can range from sweet to dry, and it is used as a dessert wine or aperitif, as well as added to other ingredients for a variety of dishes, like chicken or veal Marsala.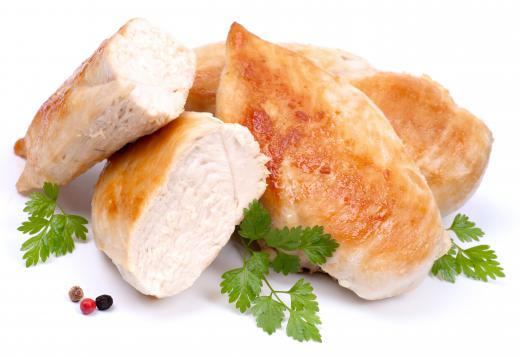 Chicken Marsala is a traditional Italian dish that starts with boneless chicken breasts that are coated, usually with flour. The sauce for it is made of butter, olive oil, mushrooms, Marsala wine, and sherry. Salt, pepper and oregano season the dish. Some recipes also include capers and lemon juice. The popularity of the dish dates back to the 19th century, when it most likely originated with English families who lived in the western Sicily region, where the Marsala wine is produced.
To prepare chicken Marsala, chicken breasts are pounded into thin pieces and coated with flour. They are then cooked over medium heat in olive oil, turned occasionally. The dish is seasoned with salt, pepper, and lemon juice. Once the chicken is cooked, half a bottle of Marsala wine is poured over the chicken and stired gently as it thickens. Parsley and capers are then added, if desired, to season the dish.
The sauce used in chicken Marsala is created by reducing the wine, along with onions or shallots, to a syrup-like consistency before adding seasonings and mushrooms. The sauce used for this dish is also used on pork or veal dishes and sometimes contains heavy cream. Other recipes exist for vegetables, such as carrots, with Marsala sauce.
Marsala wine is made from white grapes, including grillo, inzolia, and catarratto. This amber wine has a rich, smoky flavor, and it can be served with strong cheeses, such as Parmesan, Gorgonzola, or Roquefort. Marsala is a fortified wine that contains ethyl alcohol, which was once needed to preserve it on ocean voyages. The mass production of Marsala wine began in the late 18th century.
AS FEATURED ON:
AS FEATURED ON:








By: Christian Jung

Chicken marsala starts with boneless chicken breasts.

By: annie1961

Chicken Marsala contains chicken with a sauce made from wine and mushrooms.

By: spinetta

Marsala wine is instrumental in the creation of chicken Marsala sauce.

Some chicken marsala recipes include capers.

Chicken marsala often includes shallots.

By: mbongo

Mushrooms are usually included in chicken Marsala recipes.

By: Yves Roland

Parmesan is a hard, aged cheese used in many dishes.

By: uwimages

Salt and pepper may be used to season chicken marsala.

By: Barbara Pheby

Parsley can be used to season chicken marsala.

By: vvoe

Sicily produces marsala.

By: margo555

Preparation of the chicken for Marsala begins by sauteing the flour-coated breasts in olive oil.

By: Viktor

Chicken marsala recipes call for boneless breasts of chicken.

By: Taiga

Oregano is a basic seasoning included in chicken marsala.