What is Chicken Parmesan?
Chicken parmesan and veal parmesan are delicious Italian dishes that are quite recognizable to many living outside of Italy. Italian-Australian and Italian-American cooks, and many Italian restaurants in these countries offer some version of the dish. Ironically, chicken parmesan may not contain that much parmesan cheese, but is instead named after the Italian region of Parma, where it said the dish originates.
The typical chicken parmesan features chicken breasts that are coated in breadcrumbs, and may be quickly pan fried to create a little crunch. The breasts are then placed in a baking dish and topped with mozzarella cheese and tomato sauce. They are baked until the cheese melts and the chicken is fully cooked. The dish may be served on top of pasta or in some cases, rice. In Italy, veal parmesan is just as, if not more, popular than the chicken variant. The basic preparation requirements are the same.
Some versions of chicken parmesan completely deep-fry the coated chicken breasts (usually boneless), and then quickly bake them with a little bit of tomato sauce and mozzarella cheese. In some cases, a fried chicken breast gets just a few minutes in the oven to melt the cheese. Baking the chicken for a longer period of time when it is not deep-fried allows for the chicken to absorb more of the tomato sauce flavor.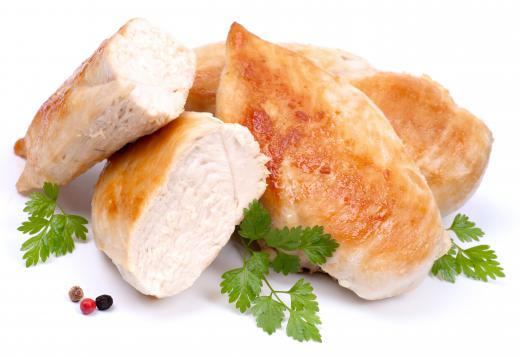 However, many people love versions of chicken parmesan on sub sandwiches or even from fast food restaurants. Deep-frying in these settings may be easier. The baked version can be much simpler to make at home, though. If you want to make a lower fat version, baking instead of frying is preferable, and you can lower calories more by using low fat cheese.
Some people do use a little bit of parmesan cheese to top the chicken when it's served. Alternately if they want to give the chicken a little extra bite and saltiness, they may add some grated parmesan to the mozzarella mix. You can really experiment with different cheeses to see which ones you best like. Other options to consider are a bit of cows' milk romano or pecorino cheese, which is usually made of sheep's milk.
Another "parmesan" recipe that can be very popular among ova-lacto vegetarians is eggplant parmesan. Instead of using chicken, slices of eggplant are coated with breadcrumbs. Unlike with chicken parmesan recipes, eggplant parmesan may be made up of several layers of sliced eggplant. Typically you don't stack chicken breasts on top of each other in this manner.
Chicken parmesan can be a great family dish since you can easily adapt most recipes to feed more people. It may be a little impractical if you're just cooking for one or two people. Yet you can downsize recipes if you like, or use the leftovers for terrific chicken sandwiches the next day.
AS FEATURED ON:
AS FEATURED ON:








By: Bert Folsom

Most -- but not all -- recipes for chicken Parmesan include Parmesan cheese.

By: Christian Jung

Chicken parmesan includes boneless chicken breasts.

By: Vidady

When making chicken parmesan, breadcrumbs are commonly used to coat chicken breasts.

By: Lsantilli

Chicken and tomato sauce are key elements in chicken parmesan.

By: Marzia Giacobbe

Mozzarella cheese is an essential component of chicken parmesan.