Parmigiana is a term used to describe a meal that is cooked and served with grated Parmesan cheese. Traditionally, it was an Italian dish consisting of layers of Parmesan cheese over fried slices of eggplant. The meal has many variations today, however, and is popular beyond its country of origin.
Although it is indisputable that parmigiana has its origins in Italy, exactly where and how it got its name is debatable. It is recognized as a southern Italian dish, with the Campania region and the island of Sicily claiming ownership of its origin. The name of the dish suggests that it came from Parma, which is actually in northern Italy. It is missing from Parma cuisine, though, which leads some people to theorize that the term comes from the Sicilian word parmiciana. Additionally, there is a strong possibility that the dish was named for the hard granular cheese that would be its major ingredient, Parmigiano-Reggiano, or Parmesan.
Regardless of the precise Italian region of origin or the means by which it acquired its name, parmigiana was originally known as melanzane alla parmigiana or aubergine parmigiana. Melanzane and aubergine are terms that refer to the eggplant. Native to India, eggplant did not reach Europe until around the 16th century, thus indicating that parmigiana might have been developed shortly after this time period. The eggplant dish is prepared by shallowly frying eggplant slices in an oil-filled pan, covering it with cheese and tomato sauce, and baking it.
Parmigiana began to spread to other parts of the world, particularly the United States, with the rise of the number of Italian immigrants between the late 19th century and early 20th century. Around this time, the formerly strictly vegetarian dish began to develop meat-based variants. A prime example is chicken parmigiana, which involves chicken breasts dipped in a beaten-egg mixture, covered with bread crumbs, fried and layered with marinara sauce. Another popular variation is veal parmigiana.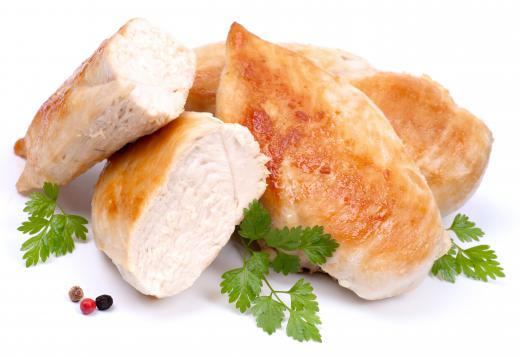 By the end of the 20th century, the term parmigiana had spread to other applications that had little in common with the original recipe. In the U.S., for example, deli shops sell the chicken or veal variants as the filling for submarine sandwiches, placing the prepared meat in the middle of sliced-open oblong Italian rolls. Additionally, Parmesan is no longer the only cheese used, and other types such as mozzarella have either been used in lieu of Parmesan or in addition to it.
AS FEATURED ON:
AS FEATURED ON:








By: Bert Folsom

A small bowl of grated Parmesan cheese.

By: Elenathewise

Parmesan cheese chunks.

By: Christian Jung

Chicken breasts are a key ingredient in many culinary dishes.

By: margo555

Olive oil is used for frying parmigiana dishes.