Chicken roulade is a dish made with flattened and stuffed chicken cutlets. There are many different recipes available, because it can be made with a number of different stuffing ingredients. After the roulade is stuffed, it is fried until it is golden-brown, and then baked. Sliced chicken roulade is an attractive dish that can be cooked ahead of time and served when desired.
Many recipes begin with boneless, skinless chicken breasts, though some may prefer to leave the skin on, especially if the roulade is not going to be breaded. The chicken is butterflied, or sliced horizontally until the two halves are almost separated. The cutlet is then placed between two sheets of waxed paper and hammered flat with a meat-tenderizing mallet or a heavy pan until the cutlet is 0.25-inch (5 millimeters) thick.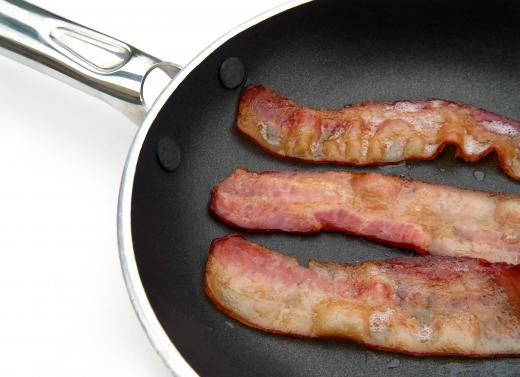 There are a number of meats that can be used as a stuffing in chicken roulade, including ham, veal and sausage. Crispy, fried bacon and raw pancetta — cured Italian pork belly — are often selected, as is prosciutto, an Italian ham. A meatless stuffing could include mushrooms that have been sauteed in butter and garlic.
Cheeses also are frequently found in chicken roulade. There may be just a small amount of feta cheese or Brie, or a mixture of cheeses such as Swiss, provolone and Muenster. Parmesan and Pecorino Romano are flavorful, hard grating cheeses that also can be used.
Many recipes include spinach, though any green leafy vegetable can be used in roulade. Asparagus that has been parboiled can add an elegant touch. Red and green peppers add flavor and brightly colored accents to the final dish.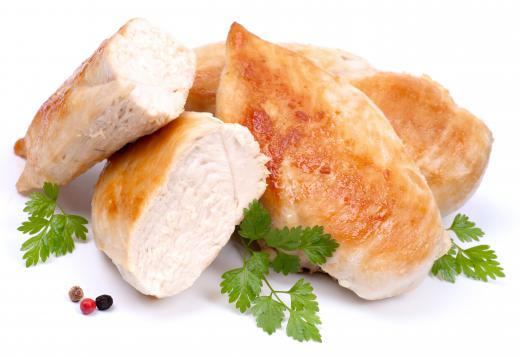 The selected stuffing ingredients are spread on top of the open cutlet. While any meat and vegetables are usually laid out flat, cheeses are sometimes added to the end that will be rolled first. This helps to prevent the melted cheese from oozing out while the roulade is cooking. After the cutlet is rolled, it is secured with wooden toothpicks along the open side and on either end.
Chicken roulade is usually coated in a three-step process of flouring, dipping in an egg bath and then coating with crumbs. It is deep-fried until golden-brown and then removed to an oven dish. The roulade is then baked until it is bubbling and allowed to set before serving. Chicken roulade is usually served sliced, with a salad, or on top of mashed potatoes, rice or another grain.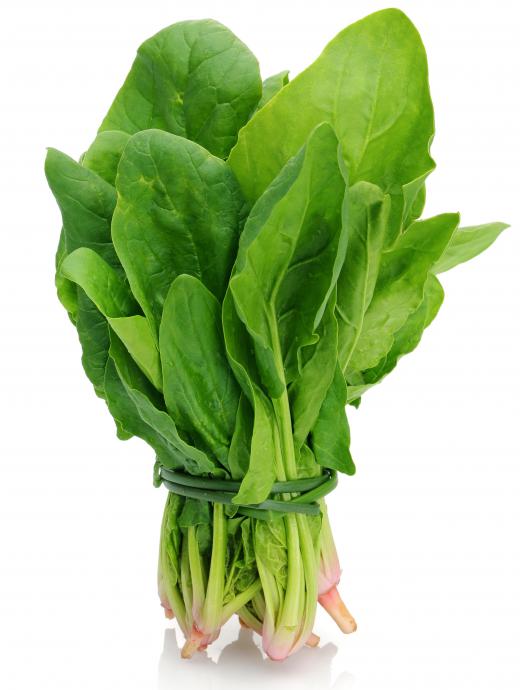 If the roulade is not breaded, it can be pan-fried in butter, with a small amount of olive oil added to keep the butter from burning. A medium flame is best for this step. One should remove the roulade from the pan after it has browned on all sides and put it in the oven to bake until done. The liquids remaining in the pan can be saved and used to make a gravy.
AS FEATURED ON:
AS FEATURED ON:








By: sparkia

Fried bacon is often used to stuff chicken roulade.

By: Christian Jung

Chicken breasts are high in protein.

By: Tim UR

Chicken roulade often contains a mix of cheeses, which includes Swiss cheese.

By: mates

Some versions of chicken roulade are made using spinach or another green leafy vegetable.