What Is Chocolate Coffee Cake?
Chocolate coffee cake is a semi-sweet breakfast food made using chocolate chips, cake batter, brown sugar, and butter. These primary base ingredients may be combined in any order, whether as a filling or a topping, and used to create a wide variety of coffee cakes, crumbles, and streusels. Sour cream and cream cheese are frequently added to these types of recipes to add moisture and flavor to the cake.
A coffee cake may be any type of baked cake that is topped or swirl with a sweet filling or sugar based crumble. This food is often served with coffee or tea at breakfast, the natural bitter taste of these drinks complimenting well the extremely sweet nature of these cakes. Though chocolate coffee cake is made using granulated and brown sugars, cinnamon, and chocolate chips or cocoa, it tends to be less sweet than other traditional chocolate based desserts.
A streusel is a type of cake that combines a spongy, slightly sweet baked cake base which is then topped with a crumble mixture. When making a chocolate coffee cake streusel, chocolate chips are added to brown sugar, flour, and butter and blended until the mixture resembles coarse cornmeal. Chopped nuts may be incorporated as well, to suit the flavor preferences of the chef. The base layer of cake is typically a combination of flour, butter, sugar, milk, and baking powder, to which cream cheese or sour cream may be added for additional moisture and flavor.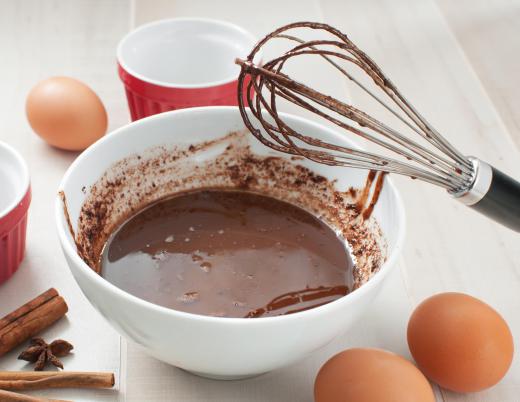 Chocolate may be incorporated directly into the cake mixture by using a simple layer technique. Two separate batters are first prepared and poured alternately into a well greased baking dish. The chocolate batter may be mixed together using cream cheese, chocolate chips, and sugar. The cake base batter is similar to that used in chocolate coffee cake streusel, using flour, sugar, butter, eggs, and baking powder. One half of the cake batter is added first, followed by all of the chocolate batter, and topped with the remaining cake batter.
Making a chocolate coffee cake in this manner creates a moist, marbled cake that may be served from a loaf or bundt pan and sprinkled with powdered sugar. Marble bundt chocolate coffee cakes may also be made by combining traditional coffee cake batter with chocolate glaze. The glaze may be made using melted chocolate pieces, butter, and confectioner's sugar. These two mixtures are then layered throughout the baking pan multiple times and stirred using a flat bladed knife to evenly blend the two flavors.
AS FEATURED ON:
AS FEATURED ON:








A bowl of sour cream, which is often used to add moisture to chocolate coffee cake.

By: razmarinka

The base layer of chocolate coffee cake is made with flour, sugar, and butter.