A chouquette is a traditional sweet French pastry that is often served as an afternoon snack. Made from a simple dough, a chouquette can be topped or filled with a number of ingredients. No matter what flavors are used, the baking process is considered the most important part of making this delicacy.
In France, supper often occurs very late at night; it is rare for the final meal of the day to take place before eight o'clock, and most restaurants do not open before this time. Pastry shops and bakeries are often the exception, and chouquettes are a staple in these types of establishments. They are usually sold in paper sacks, by weight, and meant to tide one over until dinner time.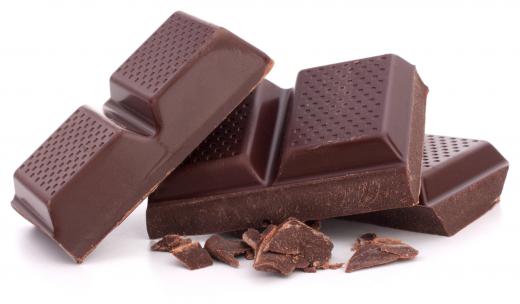 The chouquette is made from a very simple dough, known as choux, with only four ingredients: flour, butter, water, and eggs. The steam created by the wetness of the dough is what causes a chouquette to rise in the oven without yeast or other leaveners. Despite the amount of fat in the dough, this steam causes the finished product to be very light and airy while still remaining rich in flavor.
Traditional chouquettes are usually made with baked drops of choux sprinkled with very coarse sugar. In many cases, chocolate chips may top the pastry in addition to sugar. The coarse sugar is often considered essential to making a traditional chouquette; the French use a pearl sugar, which often looks like sprinkles or tiny discs, to make the snack.
When this pastry is served as a dessert, it may be filled with either a custard or a mousse. The custard, made from milk, eggs, and sugar, can be flavored with lemon or vanilla. The mousse, made from whipped cream and eggs, can have chocolate, sugar, or fruit added for flavor. The mousse or custard is usually pushed into the center of the choux before it is baked, and the dough rises around the filling while cooking.
No matter what flavorings are used in a chouquette, the baking process is extremely important, and can be the difference between a good and bad pastry. As the chouquette relies on steam to rise, it is very easy for it to deflate when still warm. Therefore, most bakers recommend allowing chouquettes to cool slowly in the oven, rather than taking them out immediately after they are done cooking. Once the baking time is up, the oven is turned off and the door is cracked; this allows for a little more cooking time, thereby helping to remove some of the egg flavor, while letting a chouquette cool slowly and maintain its texture and shape.
AS FEATURED ON:
AS FEATURED ON:








By: Natika

A chouquette may be filled with a mouse made with chocolate.

By: seqoya

Some recipes for chouquette call for a custard filling made with milk and eggs.

Pearl sugar, used to make chokladboll, may be an ingredient in traditional chouquettes.