Coconut is an favorite ingredient in many candy recipes. There is not a single coconut candy, but rather a nearly inexhaustible list of candies with coconut that are made throughout the world. Coconut may be mixed in with nougat, married with chocolate, covered with other delicious glazes, chopped up with nuts, or employed in so many other ways. People looking for coconut candy at stores are likely to find quite a few things, and many people make their own candy at home.
Commercial coconut candy types include things like the Peter Paul Manufacturing Company's Mounds® and Almond Joy® Bars. Most are familiar with the jingle of this company claiming "Sometimes you feel like a nut; sometimes you don't." Mounds® were already popular mixes of coconut covered with chocolate when the company added Almond Joy® in the 1940s. Instead of just coating the coconut mix with chocolate, an almond was added on top before chocolate was applied, leaving consumers to decide if they "felt like a nut" or not.
Although there are many candy bar companies that have created various types of coconut candy, the meat from this nut is not just suited to candy bars. One popular type of coconut candy is the haystack, which mixes toasted coconut flakes with chocolate or white chocolate. Any candy might be made better by the addition of coconut and it can be added to things like truffles, peanut butter cups, fudges, and fondants used as soft centers for dipping. Sometimes people consider the coconut macaroon to be more rightly a candy than a cookie, though truly either definition will work.
Candy books and Internet sites devote significant space to recipes for coconut candy made at home, and these may be very simple and easy to follow or may alternately require some complex candy making skills. Simple things like haystacks might not need too much work, but elaborate fondants and fudges may require precise boiling of ingredients to certain temperatures and ability to work quickly.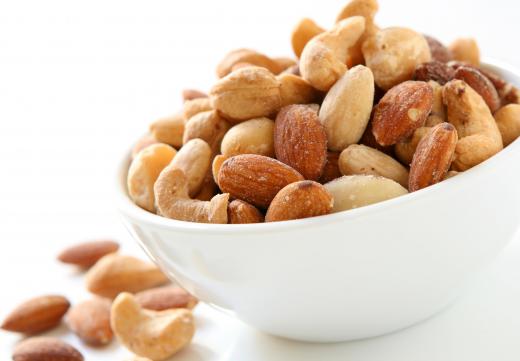 Some types of coconut candy use both coconut meat and milk. These include the hard Latin American candy cocada, which is a combination of the above with regular milk, sherry, egg yolks, sugar and almonds. Other versions of cocada exist and recipes may differ depending upon individual regions. Numerous countries make use of coconuts in various forms of candy, and international food websites can be great places to find a variety of recipes that are fun to try at home.
AS FEATURED ON:
AS FEATURED ON:








Shredded coconut meat.

By: Africa Studio

Some chocolate candy bars contain coconut.

By: JJAVA

Almond Joy® candy bars contain not only coconut, but also almonds.