What is Cold Pressed Oil?
Cold pressed oil is oil produced through a combination of grinding and low heat. Many types of fruits, seeds, and vegetables can be used to make it, but not all cooking oils go through this process. The introduction of heat to the process of making most oils degrades their flavor, nutritional value, and color, and may expose them to toxins. Regulations governing the cold pressing process are made often vary by country, so shoppers can benefit from reading all product labels before buying them.
Use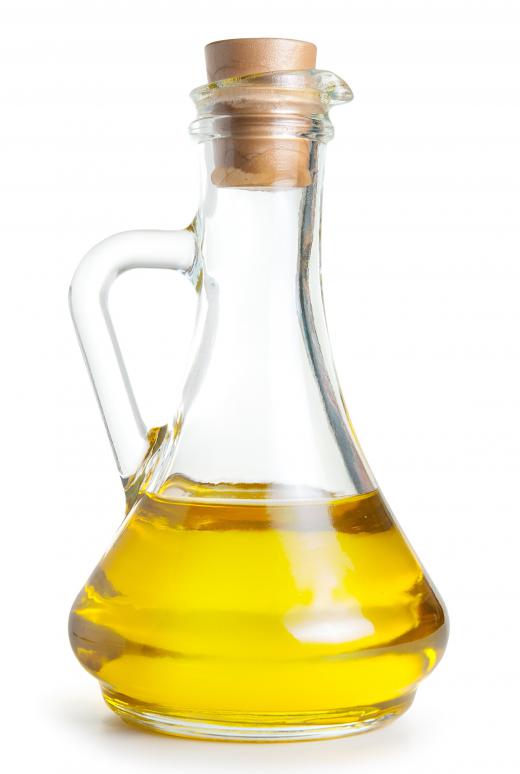 Many people believe that cold pressed oil has a superior flavor. For dressings and dishes in which the flavor of the oil will play an important role, it is generally superior to other cooking additives. When it is heated through cooking, consumers should be more concerned with the smoking point of the individual ingredient used, since some cold pressed oils can't handle high heat. These generally shouldn't be used in cooking anyway, since the delicate and complex flavor will disappear.
Possible Health Benefits
Cold pressed oil may be healthier than conventionally made oil because of the lack of heat and chemicals in the production process. In conventional extraction, raw materials are heated to very high temperatures, sometimes up to 450°F (around 230°C), which changes their chemical structure. They are also often made with chemicals like hexane, a solvent which can cause health problems.
Production
The cold pressing process is most commonly used to make avocado, olive, pumpkin, flaxseed, sunflower, and peanut oils. Production starts with the nuts, seeds, or fruits being used to make the product being ground into an even paste. This is slowly stirred, which encourages the oil to separate from the solid parts and clump together; once this happens, pressure is applied, forcing the oil out. This can be done with a machine or in the traditional way, with a stone. Though the friction caused by the pressure does increase the temperature of the product, manufacturers must keep it within a certain degree range to be able to claim that the oil is cold pressed.
Regulations
The term "cold pressed oil" is subject to different regulations, depending on the part of the world in which it is made. In the European Union, for example, oil with this label must be produced in an environment that never exceeds a certain temperature. This varies depending on the source material, but is generally around 80° to 120°F (27° to 49°C). In the United States, labeling is not as regulated, so consumers generally need to contact companies directly to enquire as to their manufacturing process. Though many companies make a similar product, expeller pressed oil, it usually can't be designated as cold pressed, since the expelling process involves high levels of pressure, which creates more heat.
AS FEATURED ON:
AS FEATURED ON:








By: grekoff

Cold pressed oil.

By: WimL

Cold pressed flaxseed oil and flax seeds.

By: oriori

Avocados can be used to make cold pressed oil.

By: WimL

The cold pressing method is widely used to make peanut and olive oil.

By: Serhiy Shullye

Sunflower oil is often made using a cold press process.