Sunflower oil is a type of vegetable oil that is expressed from oil-type sunflower seeds. It can be used in cooking and cosmetics, and it is especially popular with people who are concerned about the health impacts of oil, because it is a relatively healthy form of vegetable oil. Many stores sell sunflower oil, with several types on the market to choose from, and it is also possible to order specific varieties from manufacturers. People who want to use it in cooking should take care to purchase food grade oil.
The original form was linoleic sunflower oil, which is prone to oxidation. High oleic oil is much more shelf-stable, and generally preferred. In addition to having a longer shelf life, it is also high in vitamin E, and low in saturated fat, making it a healthier choice. Consumers can also choose between refined and unrefined oils, with refined oils being more stable, while unrefined oils have a stronger flavor.
Pure sunflower oil is clear to pale gold in color. In cosmetics, it can be used as a carrier oil. People also use it to condition their skin, since the oil moisturizes without clogging pores, and the neutral scent makes it ideal for skin care. Cooks use sunflower oil for frying, although it can also be used in dressings and other recipes which call for oil. The neutral flavor and scent make it acceptable for use in baking, as well.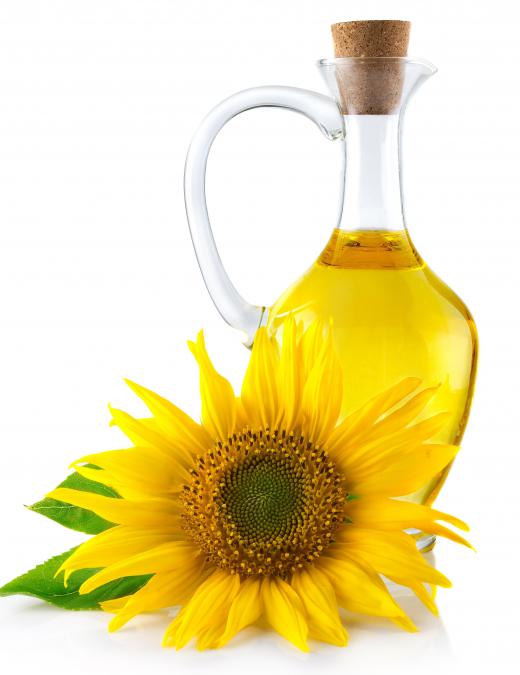 Cooks may want to be aware of the smoking points of sunflower oil. Unrefined oil reaches its smoking point at 440°F (227°C), meaning that it cannot be used above these temperatures. If the oil is allowed to reach the smoking point, it can become rancid, developing a strong and unpleasant flavor. Refined oil can be heated to 450°F (232°C), making it a generally better choice for cooking.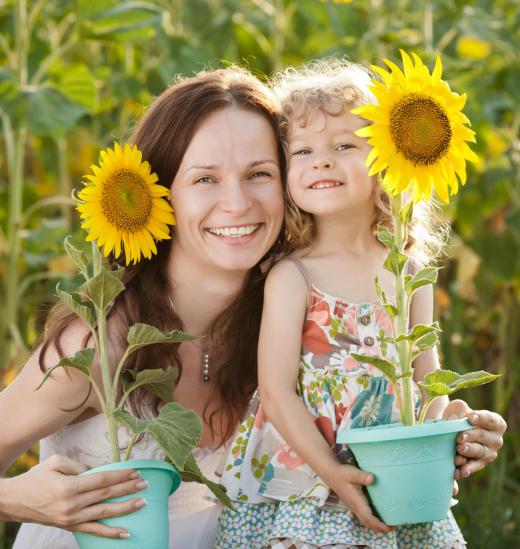 Like all oils, sunflower oil should be stored carefully. Ideally, it should be stored in a dark container under refrigeration. Although refrigeration will thicken the oil, once brought to room temperature, it will quickly warm up. It can also be stored unopened in an opaque container in a cool dry place. Cooks should avoid exposing containers to heat or moisture, as this can cause the oil to become rancid over time.
AS FEATURED ON:
AS FEATURED ON:








By: starush

Sunflower oil is sometimes used in frying food.

By: Serhiy Shullye

Expressed from sunflower seeds, sunflower oil is a popular cooking oil that's high in vitamin E and low in saturated fat.

By: Sunny studio

Oil derived from the seeds of sunflowers can be used to cosmetics or cooking.