Cornstarch is starch that is ground from the white endosperm at the heart of a kernel of corn. It's used as a thickening agent in cooking, a health-conscious alternative to talc, and the main ingredient in a biodegradable plastic. Powdered sugar also includes a small amount so that it does not clump.
In the kitchen, cornstarch can be used as a binder for puddings or similar foods, or as a thickener for sauces, stews, and similar dishes. Combined with milk and sugar, it can be used in a simple pudding. It can form unappetizing clumps in hot water, so if cooks need to thicken something that is already cooking on the stove, experts recommend mixing a bit in a glass with cold water before adding it to the pot.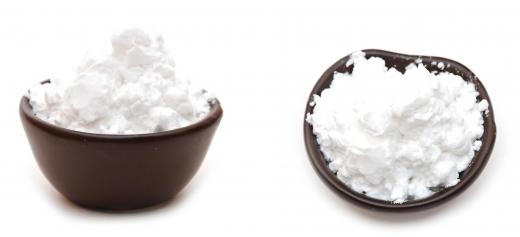 Some people prefer cornstarch-based baby powder to the more traditional talc-based variety, as talc may present health concerns. Though the United States Food and Drug Administration has designated talc as generally recognized as safe (GRAS), it has been linked to pulmonary complaints and a variety of cancers in some studies. Cornstarch, on the other hand, has never demonstrated a potential toxicity.
One of the most interesting properties of cornstarch, often demonstrated in the elementary classroom, is that it becomes a type of non-Newtonian fluid known as a dilatant when mixed with water. Making a dilatant is a fun and easy experiment to try at home, especially when shared with young children. It is made up of one part water with one-and-a-half to two parts cornstarch, and a bit of food color can be added. The mixture, sometimes called Oobleck in reference to a Dr. Seuss book, acts as a thick liquid when allowed to sit, but as a solid when force is applied. A person can sink a hand into the mixture slowly, but it will not give if someone tries to punch it.
AS FEATURED ON:
AS FEATURED ON:








By: vadim yerofeyev

Cornstarch is commonly used as a thickening agent in recipes.

By: Dmytro Smaglov

Cornstarch can be mixed in cold water before being added to dishes to prevent clumping.