Dairy mix is a product used in commercial ice cream, soft serve, and frozen dessert making. It is designed to streamline the frozen dessert manufacturing process by allowing producers to skip several steps, focusing instead on flavorings and texture. Many dairies offer dairy mix as part of their product line, generally packaged in large volumes, reflecting its industrial nature. People who make frozen desserts at home generally do not use dairy mix, since they work in such small quantities.
A basic dairy mix contains a blend of milk which is designed to reach a specific milkfat content. The milk may also be mixed with stabilizers and sweeteners, to ensure that it stays fresh on the shelf longer, and so that frozen dessert makers do not need to add sugar. The dairy mix is generally labeled with the milkfat content: 10%, 12%, 14%, and 16% are common, and many companies also offer lowfat or non-fat versions for frozen yogurt and low-fat ice cream.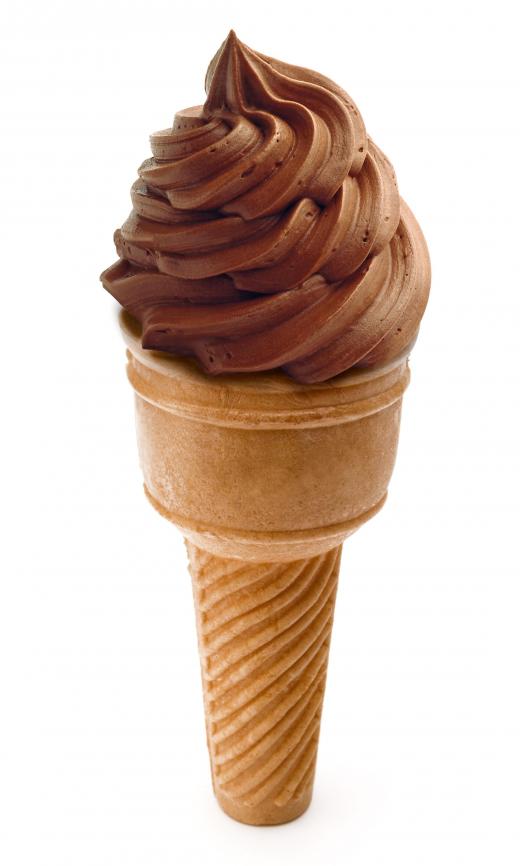 Some companies also make specialty dairy mix, such as sugar-free dairy mix for making desserts suitable for diabetics. Flavored dairy mix in basic flavors like vanilla and chocolate is also available, for companies who want to be able to dump it directly into a frozen yogurt or soft-serve machine. In other cases, the dairy mix is plain, allowing the producer to flavor it on an individual basis.
To use dairy mix, the product is poured into an ice cream maker or batch freezer, along with any desired flavorings. The directions for use of the machine are followed, and the ice cream is poured off into containers for freezing. The producer generally labels the containers with a date, to ensure that they are pulled when the flavor may be compromised. Frozen desserts can last quite a while when they are kept at the proper temperature, although they can ice up or lose flavor if they are handled poorly.
Most dairy mix comes in large plastic bags which hold several gallons or liters of the milk blend. The bags are packaged in heavy duty cardboard boxes to ensure that they are easy to handle, and a small nozzle can be opened to pour off a desired amount. A box of dairy mix can weigh 40 pounds (18 kilograms) in a relatively modest size, so it requires a great deal of strength to make ice cream commercially. Large scale producers may keep their dairy mix in tanks, which are periodically filled from a chilled tanker truck.
AS FEATURED ON:
AS FEATURED ON:








By: m.u.ozmen

Ice cream made with dairy mix.

By: Jiri Hera

Milk is used to create a dairy mix.