Dessert salad is a sweet dessert often made with fruit. Despite the name, this dish does not contain vegetables or lettuce. It is a popular dessert for summery meals or outdoor parties because it tends to be lighter and very refreshing because it is chilled. In many cases, dessert salad is made with a mixture of fruits, as well as additional items to make it sweeter and hold the salad together such as gelatin or whipped cream. Ambrosia, for example, is a popular dessert of this type, often made with heavy cream, fresh fruits, and other ingredients such as pistachios.
The ease of making dessert salad makes it a popular dish for potlucks, picnics, or other large family or community meals. It is fairly easy to invent a recipe, or there are dozens to be found online. Many people find that preparing the dish with canned fruits is slightly easier, though it is certainly possible to use fresh fruits as well. Canned peaches, mandarin oranges, and even maraschino cherries are some of the most popular fruit options for dessert salad; pineapples and pears are also good options because many people like them. For people who prefer to use fresh fruits, mixes of summer berries such as strawberries, raspberries, and blueberries can be delicious.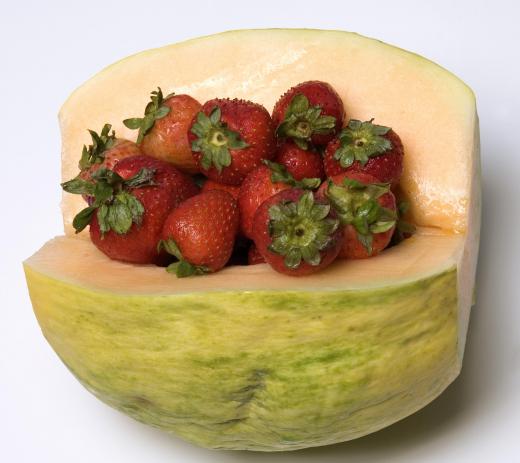 Of course, some additions are necessary to make the dish a true dessert salad rather than a simple fruit salad. For this reason, whipped cream, heavy cream, or gelatin are some of the most popular options because they give the dish more weight, and help to make it a more filling dessert. Some people might also add sugar or sour cream. Nuts such as pistachios are sometimes added as well. Others will even add things such as soft candy, pudding, or sweetened rice, depending on the other ingredients in the salad.
Generally, a dessert salad will need to be made at least a few hours in advance and then chilled in a mold to give it time to set. It should then be kept cold when it is served. If it will be consumed by a number of different people, it is important to indicate the ingredients in the salad - particularly if it contains nuts - in case anyone has allergies. A dessert salad is an excellent option that is enjoyed by many different types of people, and represents something a little different than the more traditional cookies, cakes, and pies often found at events.
AS FEATURED ON:
AS FEATURED ON:








Cut crenshaw melon filled with strawberries.

By: Malyshchyts Viktar

Pineapple can be used in a dessert salad.

By: Dmitriy Syechin

Fresh strawberries can be included in a dessert salad.

By: natalyka

Dessert salads may begin as a fruit salad before sweet additions are made.

By: Tim UR

Bananas are often used in the creation of dessert salads.