Elote is the Spanish word for corn, but it also refers specifically to a Mexican appetizer or snack of corn on the cob. After being cooked, the cob of corn is coated with tasty toppings to the customer's taste preferences. This popular street food is commonly sold as one of two common corn-based items sold by Mexican vendors. The other is esquites, sold in the form of corn kernels eaten from a cup with a spoon, often by the same vendors who sell elote. While elote is traditionally a street food, upscale restaurants around the world may feature it on their menus as an international delicacy.
Preparation of elote begins with cooking the corn in the husk. The husk is peeled back but left attached so that the corn silk can be removed. Then the husk is wrapped back up around the cob of corn and secured at the open end. This is typically done with a scrap of corn husk or a string. It can be boiled, grilled, or roasted in its husk.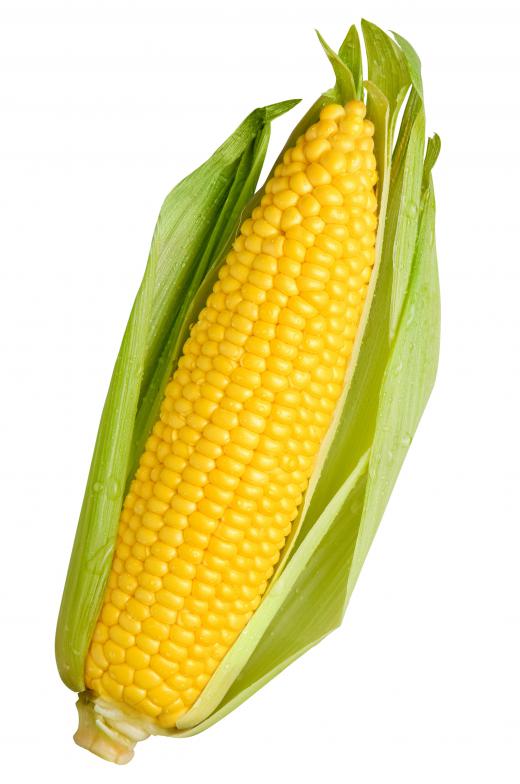 When the corn is cooked, it is removed and the husk is peeled back so that the cob is exposed. It is generally held by part of the stalk that has been left attached. A creamy coating is slathered onto the corn so that other toppings will stick to the cob. Traditionally, this coating is Mexican crema, a type of sour cream, but updated versions may use mayonnaise. Lime juice may be added to this creamy coating for extra flavor.
Once this coating is applied, the vendor or the customer may apply a variety of toppings to the customer's preferences. Cheese is a popular topping either in the traditional form of crumbled Mexican cotija or a locally available substitute when served outside of Mexico. Spicy seasonings such as hot or mild chili powder are also generally offered. Non-traditional gourmet toppings may be available from some upscale food carts and restaurants.
After the desired toppings are applied, elote is typically held by the stalk at one end. This allows the customer to bite the kernels off the cob. Given the amount and types of toppings applied, eating elote can be a rather messy endeavor.
Noted for its unique flavor and incorporation of hot with cold, creamy with crunchy, and salty with spicy, elote is no longer only enjoyed in Mexico. While it is still most commonly sold throughout Mexico, it can also be found in many major cities around the world. For example, it can be found in cities in the United States such as New York, Boston, and Los Angeles. From fancy tables in a fine dining establishment or to benches in the park bench, elote is a delicious treat enjoyed by many in Mexico and elsewhere.
AS FEATURED ON:
AS FEATURED ON:








By: rimglow

Elote is the Spanish word for corn.

By: Igor Dutina

In Mexico, vendors commonly sprinkle chili powder and other seasonings on freshly grilled elote.

By: Igor Mojzes

Upscale restaurants may feature elote as an international delicacy.