Farfalle pasta is a popular Italian pasta in the shape of a bow tie. In fact, some producers call their farfalle "bow tie pasta" to make it seem more friendly to non-Italian speaking consumers. The shape is fairly versatile, and can be used in a range of dishes. Most markets stock farfalle pasta, since it is popular and reasonably well known among consumers. It is also possible to make farfalle at home with very basic equipment.
To make farfalle, pasta dough is cut into wide ribbons which are sheared to form rectangles. Often, shears with a jagged edge are used, so that the rectangles also have a jagged edge. Each rectangle is pinched in the middle to form the classic bow tie shape. Farfalle pasta could also be considered butterfly shaped, and as farfalla means "butterfly" in Italian, this is probably the shape that the pasta was originally intended to evoke. A miniature version is known as farfalline. Farfalline pasta is ideal for soups like minestrone.
Culinary historians believe that farfalle pasta has been made since at least the 1500s, and that the pasta shape probably originated in Northern Italy. The pasta is well suited for tomato and cream dishes, although it can be used for others as well. Some cooks also use farfalle in baked dishes such as casseroles, since the pasta bakes and holds its shape well. When made from hard durum wheat, farfalle pasta is a chewy, robust, flavorful pasta which can also be enjoyed plain.
Cooks who want to make fresh farfalle pasta at home will be greatly assisted with a pasta machine, although the device is not strictly necessary. To make pasta dough, mix four cups of flour, four eggs, one egg yolk, one and one half teaspoons of olive oil, and a dash of salt. Knead into a stiff dough, and allow the dough to rest while setting up a space to roll it out.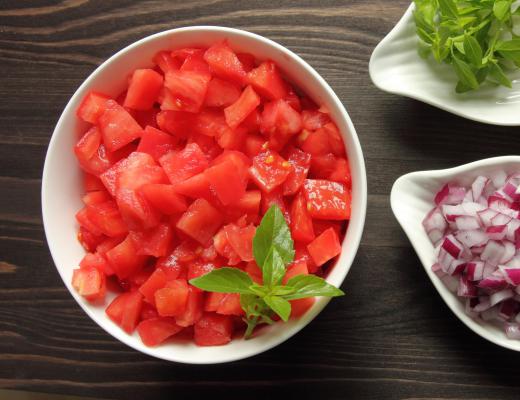 If using a pasta machine, roll the dough out to a thin setting, and then either slice it by hand into wide widths or use a slicing attachment. Otherwise, roll the pasta dough out very thin by hand, and then use a knife to cut the dough into wide strips. Slice the strips of pasta into small rectangles with pinking shears for a ragged edge, or just cut the rectangles with a knife. Pinch together to make bowties and allow the farfalle pasta to rest briefly before cooking, or dry it on racks for consumption later.
AS FEATURED ON:
AS FEATURED ON:








By: Jiri Hera

Farfalle pasta is often referred to as bow-tie pasta because of its shape.

By: uckyo

While making farfalle pasta at home, pinking shears are used to slice the strips of pasta into small rectangles that have a jagged edge.

By: Profotokris

Farfalle pasta can be tossed with chopped tomatoes and basil for a simple summer meal.