Lumache pasta is a pasta shape which is formed like a shell. It comes in a range of sizes, although classic lumache pasta is around the size of the first joint in the thumb. This pasta shape is incredibly versatile, and it is highly useful to keep around the house. It can be used in both sophisticated pasta dishes and simple meals which are designed to appeal to younger eaters. Most markets stock lumache pasta, which may also be labeled as "shell pasta," "pipe rigate," or "conchiglie pasta."
In Italian, lumache means "snail," and the classic form of this pasta does look rather like a snail shell. The shell shape makes this pasta bulky, so that it can support heavy or chunky sauces. Because the pasta is hollow, it also has a lot of surface area to hold lighter, more delicate sauces. You can find varieties which range in shape from basic crimped tubes to slightly rolled pasta to spiraled shells with two openings which look alarmingly like recently vacated snail shells.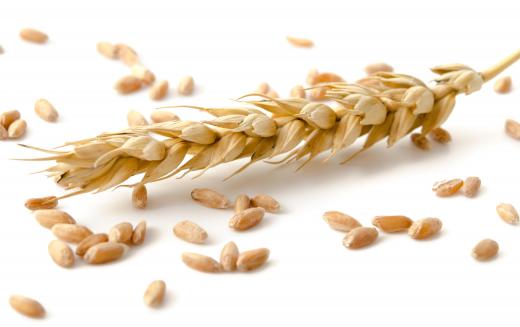 Very small sizes of lumache pasta can be used in baked pasta dishes and soups, while intermediate ranges are great plated with sauces. Cooks can also find jumbo lumache which can be stuffed and baked. Stuffed lumache can be filled with ingredients like ricotta, mozzarella, tomato sauce, pesto, meats, and vegetables, and they make an interesting change from more traditional stuffed and baked pasta shapes like manicotti.
As is the case with other pastas, a variety of types of wheat can be used to make lumache pasta. If you can, purchase pasta made with durum wheat, which is an especially hard variety of wheat which cooks to al dente perfection. Even when slightly overcooked, a durum wheat pasta will retain a chewy, resilient mouthfeel, and it will hold its shape, rather than falling apart. You can also purchase flavored lumache varieties like tomato, pepper, and spinach.
Cooking times for this versatile pasta shape vary. As a general rule, boil pasta in a large pot in lightly salted water. Once the water comes to a boil, add the pasta and turn the water down so that it boils less violently. Stir the pasta to keep it from sticking, and taste it every few minutes to test for doneness. Once the pasta is done, drain it and run cold water over it to prevent it from sticking, or toss the pasta immediately with oil or the sauce you intend to use.
AS FEATURED ON:
AS FEATURED ON:








By: womue

Lumache pasta may be made using durum wheat.

By: anjelagr

Spinach can be added to pasta to add color and flavor.

By: Roberto Fasoli

Sutffed lumache can be made with a ricotta cheese filling.

By: Profotokris

Lumache is sometimes served with a chunky sauce made from ripe tomatoes.