Farro is a type of wheat that was among the first plants to be domesticated in the Middle East. It is low yielding and has been largely replaced over the centuries by other crops, but it remains as a relict species in mountainous areas of Europe and Asia. The plant grows in wild and cultivated varieties, and it is still a popular food in some areas of the world, notably Italy.
There is some confusion about the difference between farro, emmer, and spelt. According to the United States Department of Agriculture's Germplasm Resources Information Network (GRIN), farro is listed as a common name for Triticum aestivum L. subsp. spelta, or spelt, and Triticum turgidum L. subsp. dicoccon, also called emmer wheat. It has been suggested that the name was used in different parts of Italy to describe different types of wheat, leading to this confusion. When cooking, however, it is important to note that farro and spelt may not be interchangeable in all recipes, so it is important to use the grain that is called for.
Farro grows wild in the Fertile Crescent area of the Middle East. The seeds self-propagate by digging into the soil with their awns, spiky filaments that can also be seen on the heads of emmer wheat. The awns expand and contract in reaction to changes in humidity, causing the seeds to burrow into the soil and grow. The plant grows well even in poor soils and is resistant to fungus.
The earliest evidence of the domesticated crop was found at a site carbon dated around 7700 BCE, near Damascus in modern-day Syria. Wild plants were found at an archaeological site carbon dated around 17,000 BCE, in modern-day Israel. Emmer wheat was especially valued in ancient Egypt, where it was the staple crop. References to the plant appear in ancient Hebrew, Greek, and Latin sources. It later became an important crop in northeastern Europe, beginning around the 4th century BCE.
Though farro is no longer grown much around the world, Italy is an exception. That grown in Italy is popular beyond the country's borders, especially in European health food and specialty stores. It's also grown today in Albania, Morocco, Spain, Turkey, Switzerland, and the Carpathian mountains on the border of the Czech and Slovak republics, though not to the extent that it is grown in Tuscany.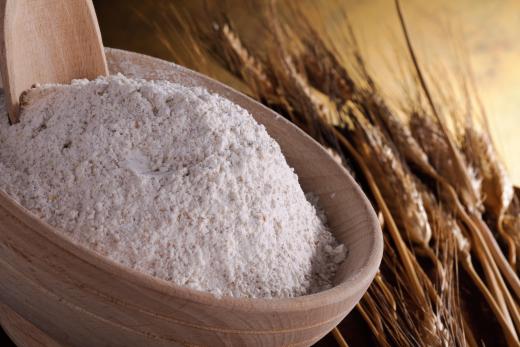 In Italy, farro is often eaten as whole grains in soup. It's also available as a pasta, though this form is not as popular; it is mainly considered a health food. In Switzerland, the grain is used to make bread, as it was in ancient Egypt. It is also sometimes used as animal feed.
AS FEATURED ON:
AS FEATURED ON:








By: al62

Farro grains.

By: TRITOOTH

Farro grows wild in parts of the Middle East.

By: pavalena

Farro is grown in Switzerland, where it is used to make bread.

By: Studio Gi

Farro is a type of wheat, and can be used to make flour.

By: juan35mm

Albania grows a significant amount of farro.