Gored gored is a raw beef dish popular in Ethiopian cuisine and also frequently eaten in neighboring Eritrea. It is made from minced beef and is similar to steak tartare, although some of the preparation methods differ. Another dish called kitfo is sometimes compared to gored gored as well, as both of these raw beef dishes are frequently served at traditional Ethiopian meals. Gored gored is usually not marinated in wine-based sauces as in the case with kitfo. Instead, it is rolled in various dried spices before being served along with other dishes found in communal Ethiopian dining.
Boneless beef fillet is generally used in gored gored. Most cooks recommend tenderizing the meat with a mallet before cutting it into cubes, though not to the point where the beef becomes too flat. A few taps on each side will normally allow the spices to absorb into the beef. Just as with other raw tartare recipes, meat that is as fresh as possible should ideally be used for gored gored. This dish consists of large beef cubes rather than the small minced pieces found in similar raw beef recipes. It is also usually spicier than some other Ethiopian meat dishes.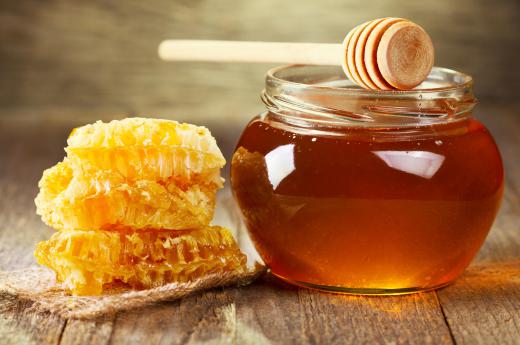 Flavoring ingredients for gored gored typically include garlic, minced ginger, and hot red pepper. The cubed steak is mixed with these spices along with melted clarified butter that acts as a binding agent. As with other Ethiopian dishes, gored gored is served on top of a large platter-sized section of flat bread called injera, along with cooked beans and other meat dishes. Communal diners each pull off sections of injera to scoop up portions of the meat. Utensils are typically not found at this traditional Ethiopian dining experience.
Gored gored is usually served in Ethiopian restaurants, and it is also considered one of the national dishes of this country. Although many traditional recipes do not call for the use of a marinade or sauce, some cooks like to make variations on this dish that include more liquid flavorings. These raw beef sauce recipes are often made from mixtures of honey, wine, and red pepper. Honey is also a favorite flavoring agent in different types of Ethiopian wine served along with these kinds of raw meat dishes.
AS FEATURED ON:
AS FEATURED ON:








By: Nitr

Honey is a common ingredient in gored gored.

By: Brent Hofacker

Gored gored is prepared from raw beef.