Beef Wellington is an elegant beef dish whose origins date back to 1815. It is often served at sophisticated restaurants and in upscale dining rooms where, based on its size, it can only be ordered for two people. In establishments that prepare individual Beef Wellington portions, it can be ordered by just one person. Due to the intensity of the preparation steps, some eateries require diners to order Beef Wellington 24 hours ahead of time.
Famous for its elegant presentation, Beef Wellington starts with a piece of raw beef tenderloin that has been trimmed of all fat and connective tissue. It is then coated with pate, normally pate de foie gras, and duxelles, a mixture of finely minced mushrooms and onions mixed with herbs and spices, reduced to a paste in a mixture of brandy, sherry or cognac and beef stock or demiglace. The beef roast is then traditionally wrapped in a large sheet of puff pastry that is securely sealed on the bottom. Some Beef Wellington recipes recommend first wrapping the meat in an oversized crepe to prevent the puff pastry from becoming soggy. The package is typically placed seam-side down on a buttered baking sheet and baked at a high temperature until the center of the tenderloin is medium rare.
The stories of how Beef Wellington got its name vary considerably. The most prevalent tale of its origins claims the dish was named after Arthur Wellesley, 1st Duke of Wellington, who reportedly had a penchant for beef, mushrooms, wine and pate. Other accounts state that the British chef who created the dish wanted to give it a blatantly English name to distinguish it from the similar French dish called filet de boeuf en croute since France and England were feuding during this period of history. Another tale of how the beef dish got its title is that the slab of meat, before it was wrapped in the puff pastry, resembled the shiny military boots that were synonymous with the attire of the Duke of Wellington.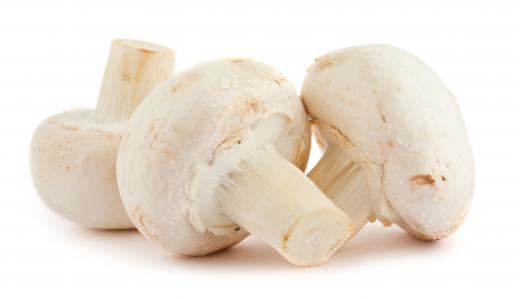 Variations on Beef Wellington include preparing individual portions using filet mignon steaks instead of the whole beef tenderloin. In recent years, the term Wellington has been used to describe any food that is baked after being enclosed in a sheet of puff pastry. Wellington dishes that feature duck breast, chicken breast filet, sausage, sea bass and whole salmon filets are often served at fashionable high-end eating establishments.
AS FEATURED ON:
AS FEATURED ON:








By: romaneau

Cognac is often used to make beef Wellington.

By: mbongo

Mushrooms are an important ingredient in beef Wellington.

By: valery121283

Raw beef should first be trimmed of fat and connective tissue.