What is Hairy Buffalo Punch?
Hairy Buffalo punch is a type of punch which is made by mixing alcohol, fruit, and fruit juices. Typically it is made in large volumes for big social gatherings, and the ingredients are incredibly varied. Essentially one's imagination is the only limit when assembling Hairy Buffalo punch, although one may want to consider the interactions between various ingredients before adding them willy-nilly.
This formidable punch goes by a number of alternate names, including Jungle Juice, PJ, hunch punch, hooch, and spodi; many more names can be found in various regional dialects. In all case, the common factor of this punch is a natural sweetness from the fruit and juices which tends to conceal the alcohol content, and a very high alcohol content due to the use of an assortment of high-proof alcohols. Punch can be a dangerous offering at a party when people are not aware of how much alcohol it contains, so caution is advised when making and serving punches, especially to people who may be driving.
To make Hairy Buffalo, people start by cutting up fruits of choice. Pineapples are common, although any sort of fruit can be used. The cut fruit is deposited into a large container, and alcohol is poured over it. Whiskey, tequila, rum, vodka, and pure grain alcohol can all be used, although a combination of all five might be a bit much. The fruit is allowed to soak in the alcohol overnight to absorb it before fruit juices like cranberry, orange, apple, and pineapple, along with punch, are added to dilute the mixture.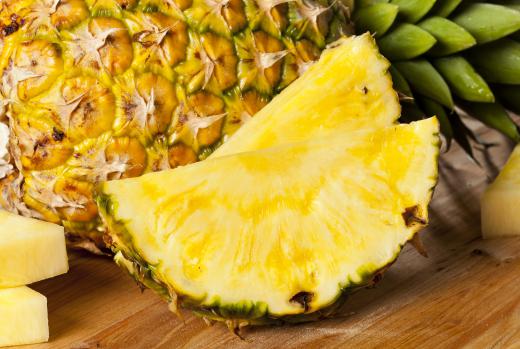 Once the Hairy Buffalo punch has been constructed, there are a number of ways to serve it. Some people take out the fruit, allowing party guests to eat it separately while serving the liquid straight or using it as a mixer in drinks. Other people like to ladle the punch and the fruit out together; traditionally, people drink a cup of Hairy Buffalo punch and then eat the fruit. Cocktail picks may be handy to have around if the punch is being served with the fruit, so that people can spear the fruit to extract it easily from their glasses.
As with all alcoholic beverages, punch should be consumed in moderation. If you are hosting a gathering with Hairy Buffalo punch, you may want to have food on offer to ensure that people do not drink with an empty stomach, and you may want to designate a bartender to ladle out servings, ensuring that no one overindulges.


By: dla4

Vodka can be used to make Hairy Buffalo punch.

By: tarasov_vl

Hairy Buffalo punch can be made by pouring tequila over pineapples.

By: bit24

The ingredients in Hairy Buffalo punch can be extremely varied.

By: Brent Hofacker

Hairy Buffalo Punch commonly features pineapple.

By: emirkoo

Hairy Buffalo punch can be made with a combination of alcohol, fruit, and fruit juice.