Hasty pudding is a dish made by cooking cracked cereal grains in milk or water until they form a dense mass, like oatmeal or a porridge. It is simple and cheap to make, and also very filling. In the 17th through the 18th centuries, hasty pudding was a common breakfast for the poor, because it was easy to make and would fuel the body until lunch time. In modern usage, the term "hasty pudding" is most associated with a specific type of hasty pudding made in the American Colonies, using corn and water.
Depending on the cook or the nation, hasty pudding can be made in a number of ways. In Colonial America, it was frequently made with ground corn, because it was abundant and cheap. In Britain, hasty pudding was made with oats or other cereal grains. In either cases, the grain would be cracked in a grain mill before being cooked and salted during cooking. Typically, a very large batch of hasty pudding is made in a thick kettle or pan.
Despite the name, hasty pudding is designed to be cooked slowly. In a home with a wood stove, a pot of hasty pudding could be left on the stove overnight to cook slowly until morning, as long as it was stirred periodically. Many recipes for a regular stove top also called for long, slow cooking, which would have broken the grains down into a mush. If cooked quickly, hasty pudding has a more chewy consistency. Stirring is crucial, however the hasty pudding is prepared, to prevent it from turning into a cement like mass glued to the bottom of the pot.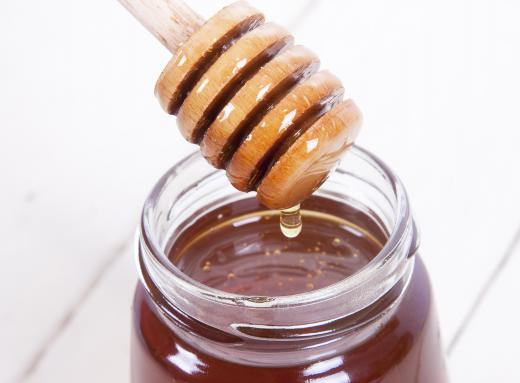 Traditionally, a sweetener such as honey, maple syrup, molasses, or sugar is mixed into hasty pudding. The dish is served hot, and if it is not cooked with milk, milk or cream might be set out on the table to be used as a garnish. A container of sweetener may be set out as well, in case the hasty pudding is not seasoned to taste. Other ingredients such as nuts and dried fruit can be added, if diners are feeling exotic.
In some regions, hasty pudding is allowed to cool into a thick slab, like polenta. The hasty pudding can be cut into wedges and wrapped up, or the wedges can be fried for extra flavor. This treatment of hasty pudding was more common in Colonial America.
AS FEATURED ON:
AS FEATURED ON:








By: Pefkos

Molasses, one of the ingredients in hasty pudding.

By: tetxu

Honey may be used as a sweetener for hasty pudding.

By: eAlisa

Hasty pudding is made by cooking cracked cereal grains, like oats, in milk.