Imarti, which is also known as emarti or jaangiri, is a Rajasthani dessert of Persian origin. It was once considered a royal confectionery and served in the courts of the Rajputs and the Mughals in India. It is red-orange in color, shaped somewhat like a circular pretzel, and has a chewy, sugary texture. Imarti is related to another confectionery known as jalebi, which also has Persian roots and is very popular in the Indian subcontinent; many sweet shops in India, particularly those in the northern parts, sell imartis and jalebis. These desserts are made on festive occasions and are also eaten as a warming food in the winter, usually with buttermilk.
Imarti ingredients are urad dal, rice, sugar, water, saffron color, rose essence, cardamon and ghee. The urad dal and rice are soaked overnight in water. The following day the water is drained away and the soaked dal and rice mixture is ground.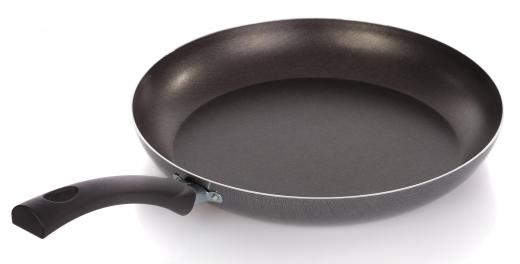 A little water is added to the mixture as it is being ground so that a thick batter is formed. A few drops of saffron food coloring are also added to the batter and mixed in well to give it a red-orange color; saffron is a natural food coloring and quite healthy. Once the batter has turned fluffy, it is set aside for three to five hours. Sugar is mixed in water and heated until a syrup forms, and cardamon, lemon juice and rose essence are added to the syrup. Ghee is heated in a frying pan.
The urad dal and rice batter is poured into an imarti bottle; these bottles can generally be purchased in an Indian food appliances store, but, if not available, a plastic bag with a hole in it can be used. The batter is squeezed out of the imarti bottle or bag into the hot ghee in the frying pan to make the imarti pattern; the pattern consists of a circle with round swirls around it.
The heat is turned low, and the confection is allowed to solidify in the hot ghee. The imartis should be fried on both the sides and should be removed when they turn crisp. The fried imartis are next immersed into the prepared syrup and are soaked in it for several minutes. After the imartis have absorbed the syrup, they are drained and set aside. They are now ready to be served, and can be served either hot or cold.
AS FEATURED ON:
AS FEATURED ON:








By: Lusoimages

A frying pan, which can be used to make imarti.

By: Monkey Business

Urad dal is one of the ingredients used to make imarti.