Jerk chicken is a Caribbean dish featuring chicken marinated in the famous jerk sauce of Jamaica. The "jerk," incidentally, is derived from "jerky," a type of preserved meat, rather than a reference to a "jerk" as in an obnoxious person. Various versions of this dish can be found throughout the Caribbean, especially in Jamaica, and it is also popular in regions with a large Caribbean diaspora. Some home cooks also enjoy making it at home.
The jerk sauce is actually traditionally a dry rub that is famous for being extremely spicy. At a minimum, the spicing includes scotch bonnet peppers, among the hottest in the world, and allspice. Most cooks also include shallots, cloves, cinnamon, thyme, nutmeg, pepper, and a variety of other ingredients to taste. A good jerk sauce has a strong spicy kick with a hint of sweetness to it, and many households develop their own specific version.
To make traditional jerk chicken, cooks rub the chicken in the spices and allow it to marinate overnight so that the flavors penetrate the meat. Then, the chicken is prepared on an open grill, and served with sides like rice, salad, and mixed vegetables. The chicken is dry, fiery, and slightly smoky.
Some people use a wet marinade to make this dish, instead of the traditional dry rub. Wet marinades include ingredients like molasses, soy sauce, lime juice, vinegar, and oil. When prepared with a wet marinade, jerk chicken is much moister, and it tends to be sweeter as well. The choice of marinade is largely a matter of taste and regional tradition.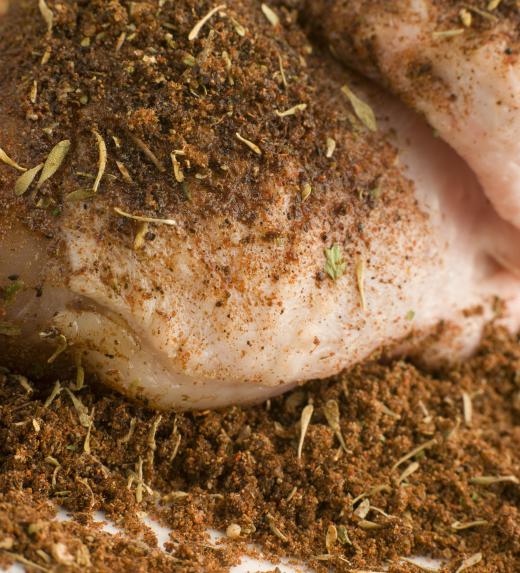 In addition to being used on chicken, jerk sauce can also be used as a marinade for beef, pork, and a wide variety of meats, in addition to meat replacements like tofu and tempeh. Historically, the meat would have been cut into small, even pieces and allowed to slowly dry out after being marinated in the spice, generating a preserved meat that would last essentially indefinitely. The jerk spice helped preserve the meat during the curing process, and also added flavor to the finished product.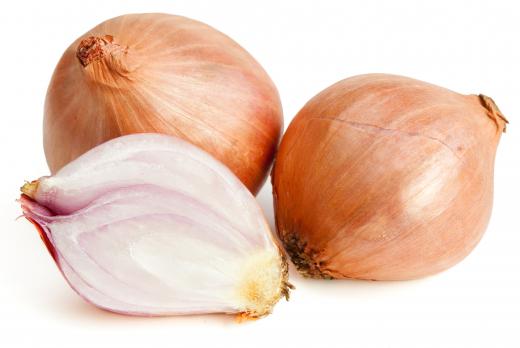 For people who want to make jerk chicken at home without mixing the spice blend, many stores carry pre-mixed spices or marinades. A grill is also not required, although it is recommended for the best flavor. If a grill is not available, the chicken can be broiled or baked, although adding liquid smoke to the marinade may be a good idea, as it will hint at the flavor of traditionally-prepared dish.
AS FEATURED ON:
AS FEATURED ON:








By: Rohit Seth

Jerk chicken originates as a Caribbean dish from the jerk sauce of Jamaica.

By: Monkey Business

Those who wish to make jerk chicken at home can buy the seasoning premade.

Jerk chicken is often made with shallots.

By: Thomas Francois

Nutmeg is a common addition to jerk spice blends.

By: bergamont

Cloves are commonly used to season jerk chicken sauce.

By: Jiri Hera

Jerk seasoning can be used on vegetarian options, such as tofu.

By: Andrey Starostin

To make jerk chicken, Caribbean cooks rub the chicken in spices and marinate it overnight before grilling.

By: bogdanserban

Various versions of jerk chicken are found throughout the Caribbean, especially Jamaica.