A common component in several Indian dishes is keema — a simple or complex meat dish, depending on the chef. Also spelled qeema or kheema, this is a customary method of surrounding ground meats like mutton, from the meat of an older lamb, with vegetables like peas and potatoes as well as a medley of characteristic Indian spices called garam masala, creating a flavor that is widely known as curry. In the end, this concoction can be spread on naan, eaten as-is, or pulled piece by piece from a flame-hot skewer.
Keema derives its name from the ancient Turkish word for minced meat. It has been prepared in India for several generations, though its precise origination is unclear. The dish is one of dozens of traditional Indian curry dishes still widely enjoyed in 2011, with different regions of the country preparing curry dishes in a slightly different way. Most of the regional cuisines, however, will offer some form of keema.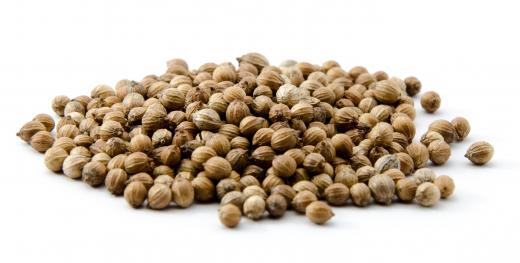 One of the chief benefits of keema is that it can be made in one pan or pot in no more than 15 minutes. It starts with salted ground mutton, sizzled in a pan until just browned. Then the mutton is set aside, and into the pan go chopped vegetables like onion, garlic, peas, tomatoes and even chilies. Some also cook up some diced potatoes at this point. When it is all slightly caramelized, the meat and dry spices go in too.
Garam masala goes with the meat. In traditional form, this spice blend combines cumin, coriander, cinnamon, bay leaf, pepper, clove, cardamom and ginger. Different curry blends are unique to each region and even household. It's the cornerstone of Indian culinary creation. After this spice blend and the meat are mixed with sauteed vegetables, many chefs also add animal or vegetable stock, tomato paste and even yogurt to create a distinctive broth for the meat to soak up. The mixture cooks for about 10 minutes at a simmer, which should the cause the juices to be completely burnt off or absorbed.
Before cooking, some take keema meat and form it around skewers for a quick flame roasting. Otherwise, the finished mixture from a pan is serve a variety of ways. A common offering with this protein is carbohydrates in the form of a naan wrapper. The meat also can be found stuffed into a pastry and fried for a famous dish named samosa.
AS FEATURED ON:
AS FEATURED ON:








By: areif

The meat in keema is typically seasoned with curry spices, including ground coriander seeds.

By: fkruger

Keema is a meat dish sometimes spread on naan, a popular Indian bread.

By: Sasajo

Peas are often included in the Indian meat dish keema.

By: Ryan

Samosas can be stuffed with keema.

By: Maris Kiselov

Keema is a common component of many Indian dishes.