Naan is a flatbread that is a staple food in Southeast and Central Asia. It is especially common in India, Pakistan, Afghanistan, Iran, Uzbekistan, and surrounding regions. Because it is popular in so many countries, it has a number of different spellings and pronunciations. In Turkic languages such as Uzbek and Uyghur, for example, this bread is known as nan. In Burma, the bread is called nan bya. The Burmese variation is slightly softer and resembles pita bread more than other types.
This flatbread is made of wheat flour and is almost always round. The dough is usually leavened with yeast before it is cooked. Once it has been cooked, it is typically brushed with ghee, a kind of butter, and then served hot. Some chefs add yogurt or milk to their naan dough to add softness and volume to the bread. Roti is bread similar to naan, which is unleavened and is cooked flat on a tawa, a kind of iron griddle.
Naan, like many staple foods, has a long history. The first record noting the existence of it dates back to 1300 AD. It is also known that naan was served at the imperial court in Delhi for many centuries. The bread has nearly as many different recipes and culinary uses as it has years of existence. It can, for example, be used as a side dish for stew. It can also be used as a wrapping for meats and other fillings. Alternatively, it can be used as the base of an open-faced sandwich. Common toppings for such dishes are meats, vegetables, and cheeses, Stews such as mutton stew and pea stew may be used to top naan as well.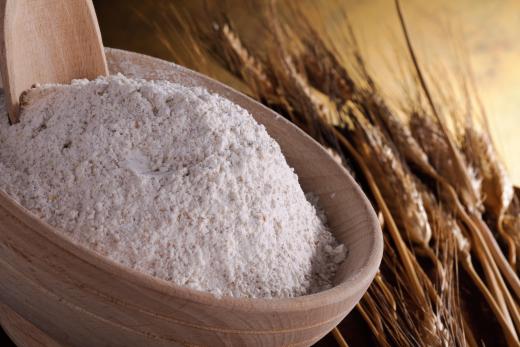 There are also different kinds. Naan-e-tanuk is a very light version of the bread. Naan-e-tanuri is a form made in a tandoori oven. Furthermore, by kneading ingredients into the dough, naan can be made sweet, savory, or spicy. Garlic naan is especially delicious.
Indian cuisine became popular in Western culture, especially in North American and Britain, in the 1970s. As many Western restaurants offer a basket of bread or rolls at the beginning of a meal, it became popular to have a basket of hot naan at the beginning of meals in Indian restaurants. With the rising popularity of Indian cuisine in the West, this bread in all of its forms and many accompaniments quickly gained global popularity.
AS FEATURED ON:
AS FEATURED ON:








By: fkruger

Naan is a flat bread, much like a pita, that is popular in Southeast and Central Asia.

By: Studio Gi

Naan is generally made with wheat flour.

By: Jehangir Hanafi

Ghee, which is brushed over the top of naan bread.

By: Robinson

Yeast, one of the ingredients in naan.

By: Schlierner

Some naan is made with garlic.

By: PhotoEd

Many Indian curries are served with naan and saffron rice.

By: Pavel Losevsky

A basket of hot naan is popular at the beginning of meals at Indian Restaurants.