Japanese cuisine makes frequent use of a flavorful soybean flour known as kinako. Kinako has a very similar flavor to peanut butter. It is commonly utilized in preparing sweets as well as absorbing the fat from fried foods.
Kinako is created by crushing soybeans. The beans are thoroughly toasted before being ground into a fine powder. A healthful flour, it is full of protein and vitamins. These nutrients make it a popular drink mix that may help improve cholesterol levels. People often stir in some kinako for extra flavor and nutrition in their milk, soy milk, or other beverages.
Light golden brown in color, kinako is often used as a topping. Peanut butter lovers might enjoy the soy-based treat on top of or mixed in with ice cream, rice cakes or crackers, frosting, yogurt, custards, and other foods. It can also be used to add texture and thickness to thin foods or in baking for additional flavor. The flour is also low in carbohydrates, making it a possible choice for people who avoid starchy foods for dietary reasons.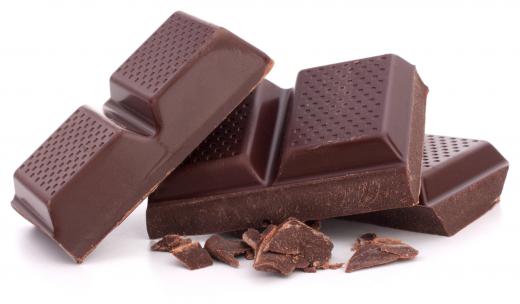 The most well-known use of this flour is on the Japanese jelly treats known as mochi, or warabi mochi. These sweet desserts are often sold from treat trucks during the summertime. Mochi rice cakes, such as kinako mochi, also make use of the nutty dust. These confections, typically consumed on New Year's Day for luck, are made with rice, sugar, and soy sauce.
Pancakes can be prepared with kinako as well. This can be accomplished by simply stirring in a 0.25 cup (32 grams) of soy flour into a favorite pancake recipe. Plain yogurt can also be added to simulate the creaminess of peanut butter.
Soy flour may not be readily available in all supermarkets. To purchase kinako, buyers may have to seek out a Japanese or Asian specialty store. Other options include health food shops and Internet sources. It is typically sold in a bag, but butter made from the flour is also available.
Candy made with soy flour can also be purchased from Asian markets. Chocolate snacks, such as chocolate-covered wafers and chewy white chocolate confections, are made with the flour. Caramel flavored candies and small, smooth candies made from matcha, or green tea, and the flour are another popular treat. Homemade candy can also be made by combining kinako with water, sugar, and barley malt or honey.
AS FEATURED ON:
AS FEATURED ON:








By: Vasilius

Crushed soybeans are used to make a flour known as kinako.

By: Natika

Chocolate may be combined with kinako to make candy.

By: mrjpeg

Yogurt may be mixed in with kinako.