Chestnut flour is a grayish-tan alternative to regular all-purpose flour made from ground chestnuts. Its sweet flavor makes it a favorite ingredient for recipes involving almonds, chocolate, honey, and hazelnuts. A gluten-free product, this flour is a cooking option for people with celiac disease or other gluten intolerances or allergies.
Since chestnuts do not contain the fat content regular nuts have, and are instead largely composed of carbohydrates, they have many of the same properties as flour. Known as the grain that grows on trees, chestnuts have been dried and made into mellow, sweet flavored flour in Italy for centuries. In Tuscany, where it is known as Farina di Castagne, chestnut flour is considered a staple food, and it is commonly called for in recipes.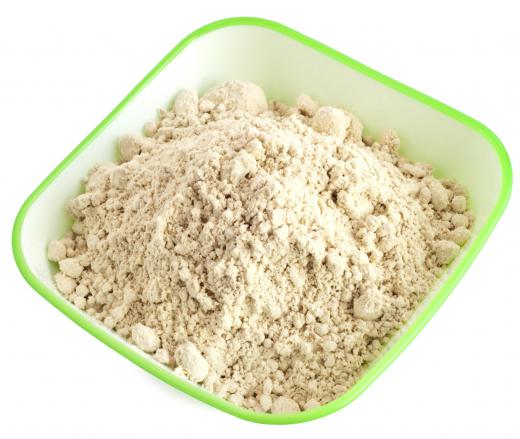 Low in fat and calories, flour made from chestnuts is considered a healthier alternative to almond flour and white flour. It also generally contains less carbohydrates than white flour, making it an option for people striving to consume less of the nutrient. It is still, however, considered a high glycemic index food. The flour does not contain a significant amount of other nutrients.
Uses of the flour are endless. Chestnut flour bread, pie crust, crepes, and other baked foods can be made with the ingredient. Pasta made with this flour is a popular dinner meal, particularly when combined with pine nut sauce. Chestnut cake, a Corsican recipe, also calls for the flour. The cake is available in many Corsican restaurants as a typical dessert.
In France, flour made from chestnuts is often used to craft sweet crepes and Madeleines. Other popular recipes for the flour include castagnaccio, a rich type of cake, and fritters. Since chestnut flour contains no gluten, it can be a challenge to cook with. Many chefs add gluten-containing flour to chestnut flour when cooking cakes, breads, and other baked goods. When this method is used, twenty to fifty percent of the mixture should ideally be chestnut.
Some people prefer to grind the sweet flour with a stone mill. This is to preserve the flour's natural flavoring and texture, as there is some concern with heat damage during processing in knife mills. People with mill access can grow chestnuts and produce their own flour.
People with tree nut allergies should take care to avoid chestnut flour. It may cause an allergic reaction. Flour made from chestnuts is typically more difficult to locate in many areas as well as more expensive than white flour.
AS FEATURED ON:
AS FEATURED ON:








By: Photofollies

Chestnut flour is a gluten-free product with a sweet flavor.

By: Jultud

Chestnut flour is made from ground chestnuts.

By: jamierogers1

Chestnut flour may be used to make pie crusts.

By: food pictures studio

Some cooks prefer to use a blend of chestnut flour and traditional white flour in their baked goods.

By: joshya

Chestnut flour is gluten free, making it a cooking option for those with celiac disease.