Konjac flour is a powdered, processed form of the root of the konjac plant that is native to several regions in Asia; the flour has an appearance similar to standard white flour or cornstarch. One of the most common uses for konjac flour is as a thickening agent, because the flour consists almost completely of water-soluble fiber that can be easily digested and contains no glutens or sugars, unlike other thickening agents. Another use for the flour is as a weight-loss aid; when ingested as a liquid, the fiber expands in the stomach and provides a feeling of being full. In Japan, konjac flour is combined with a coagulant to produce a food product known as konnyaku that can be eaten like gelatinous noodles or turned into candies. When used as a thickener or ingredient in gelatin, konjac flour tends to gel much quicker than more traditional thickeners and is up to 10 times more effective than similar ingredients, such as cornstarch.
The production of konjac flour involves grinding the root of the konjac plant, which is a corm, into powder. This powder is then processed with common milling techniques to produce the flour. Nutritionally, the flour is made primarily of water-soluble fiber and, in its raw form, does not contain any animal products, glutens or sugars. This has led to the use of the product in foods that are marketed toward those following a vegan diet and people who have an intolerance or allergy to glutens and carbohydrates.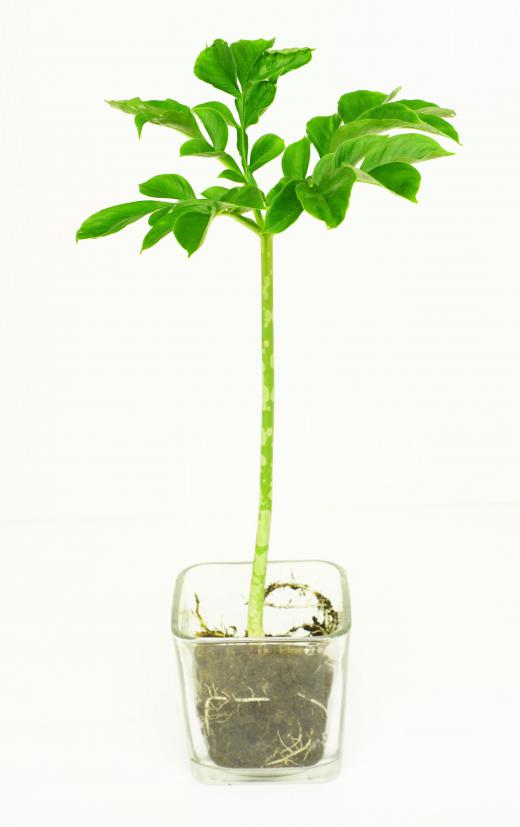 As a thickening agent, konjac flour is used in a way very similar to cornstarch. The flour must first be combined with a cold liquid to make a konjac slurry that can be more gradually incorporated into a hot liquid so it thickens evenly without forming large clumps. This is because, while the flour will dissolve in any liquid, it will only start to really thicken when heat is applied. Although konjac is a very powerful thickener, it also tends to result in a thickened texture that is different from that achieved with more traditional ingredients, producing a moister, more gelatinous mixture rather than simply a thicker mixture.
In Japan, konjac flour often is mixed with limewater to produce a thick jelly-like substance known as konnyaku. This can be formed into blocks that are then cut into noodles to be cooked and served in soups or other dishes. Konnyaku also can be mixed with other ingredients to make jelly-like sweets and candies.
AS FEATURED ON:
AS FEATURED ON:








By: amawasri

Konjac flour is processed from the root of the konjac plant.

By: Xavier MARCHANT

Some people find that konjac noodles work well as a low carbohydrate alternative to traditional pasta.