Malt vinegar, or alegar, is a type of vinegar that is made by malting barley, turning the barley into a beer, and then allowing the beer to turn into vinegar. The flavor is quite distinctive and very familiar to many fans of fish and chips. In addition to being used as a condiment, this vinegar is also commonly used in chutneys, and it can be added to pickling mixtures. The strong flavor makes malt vinegar less suitable for more mild, delicate sauces and dressings.
When barley is malted, it is soaked in water and allowed to germinate before being roasted to dry it out. The partial germination and roasting converts the natural starch in the barley into a sugar known as maltose. When the malted barley is fermented, the maltose will change into alcohol. The malting process is used to make beers and an assortment of liquors such as whiskey. When the mixture is fermented in a special way, the alcohol turns to vinegar, which has a high concentration of acetic acid, giving it a distinctive tangy taste.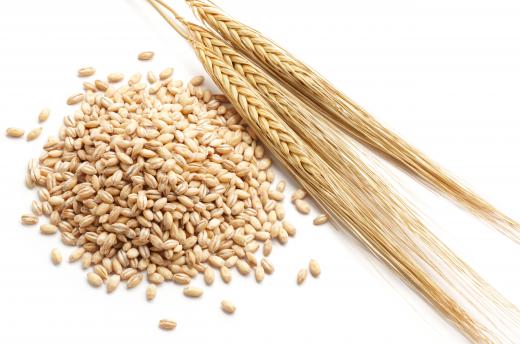 Most malt vinegar is light brown, and it is often aged before sale to allow it to mellow. Fresh vinegar can have a raw, assertive, aggressive taste that is a bit intense, while well handled aged versions are creamy and soft. The acidity pairs with the distinctive malted flavor to create a very unique condiment. Unfortunately for fans, some companies make imitations of this popular vinegar that are dyed with ingredients like caramel; these products may be labeled with the name, but they lack the complex, layered character of true malt vinegar.
Cooks who plan to use malt vinegar for pickling should make sure that the acid content is around 5%. This concentration is ideal for pickling, and it will ensure that the food is safely preserved by the process. Vinegar that is used as a condiment should be the genuine product to provide its trademark malty flavor.
The strong flavor of this vinegar means that it is not usually suitable for the purpose of making herbed or flavored vinegars. At best, a flavored vinegar made with it will simply be overwhelmed by the malt, and at worst the added flavoring could clash with the underlying flavor in a rather unpleasant way.
AS FEATURED ON:
AS FEATURED ON:








By: Okea

Malted barley is the main ingredient in malt vinegar.