Maple extract is one of a group of concentrated flavorings used in food preparation. As with essences, liquid extracts can be kept indefinitely when stored in an airtight container in a cool dark place. This is why extracts are often sold in very dark brown bottles.
There are four different types of maple extract: pure, natural, imitation, and artificial. Artificial and imitation extracts may not have any maple product in them at all. Like other liquid extracts, the maple flavor does usually have an alcohol base.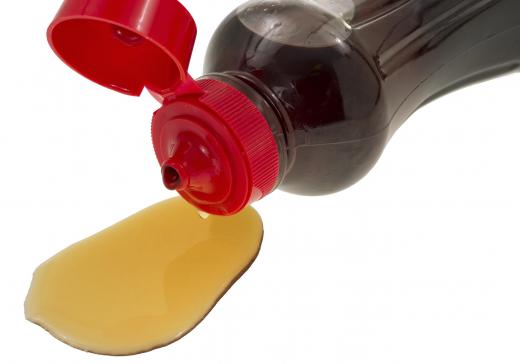 Maple extract, as with all extracts and essences, is used to add flavor without adding significant volume or altering the consistency. It can provide maple flavor as a substitute for adding a larger amount of maple syrup, maple sugar, maple honey, maple cream, or maple butter, or maple-flavored syrup, a substitute usually made primarily of corn syrup.
Recipes for certain glazes, frostings, and icings may call for this extract, as can maple ice cream. In all cases, the significantly greater amounts of other maple products that would be required would affect the texture and consistency of the product. Maple extract can also be substituted for vanilla extract in recipes such as cookie doughs and fillings.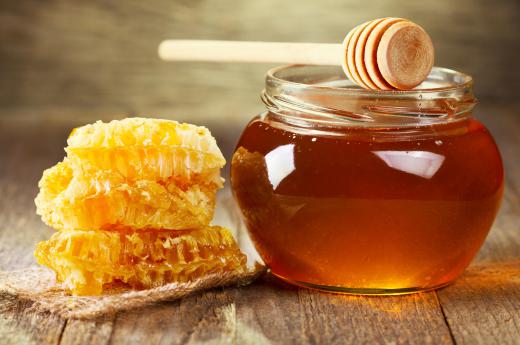 Outside the kitchen, maple extract may be used as fragrance component in beauty products, often combined with almond. It appears, for example, in some versions of exfoliating body polish, lip plumping products, and micro-mini peel systems, as well as hair conditioners. Complexion masks, facial astringent, face and body cleanser, and toner may also include it. Shoppers can look for the words "Acer Saccharinum (Sugar Maple) Extract" in the list of ingredients.
A 2002 study found that Acer Saccharinum extracts are potentially dangerous to horses, but they have access to it most usually from eating maple leaves. No other toxicity studies are available.
AS FEATURED ON:
AS FEATURED ON:








By: Bert Folsom

Maple extract can help boost the maple flavor of maple syrup without adding volume.

By: ipag

Maple extract is sometimes used as an ingredient in facial cleansers.

By: Nitr

Honey can be flavored with maple extract.

By: belahoche

Complexion masks and facial astringents may include maple extract.