What is Mexican White Sauce?
Mexican white sauce is a light to medium weight sauce that accompanies a variety of Mexican cuisine main courses and side dishes. As an appetizer, it is often served with tortilla chips. There are many recipes available, using a variety of ingredients.
Classical Mexican white sauce is prepared with sour cream, jalapenos, garlic, cumin and oregano. Mayonnaise is included in many recipes that are served chilled. White salsa is another alternative, and it uses mayonnaise, sour cream, garlic, cumin, oregano and crushed red pepper flakes.
White Mexican cheeses are often added to this sauce. Monterrey Jack or mozzarella cheese (queso blanco), mild white cheddar (Chihuahua) or Italian Parmesan (cotija) can be used. Adding grated cheese to the Mexican white sauce makes a thicker sauce with a stronger taste.
Blue cheese, Roquefort or Gorgonzola is common in many recipes. By including a hint of one of these cheeses, a meal is transformed into a unique signature dish. Simple blue cheese salad dressing is also served as a Mexican white sauce in many recipes. This recipe includes sour cream, blue cheese, garlic, lemon juice, salt and a touch of mayonnaise.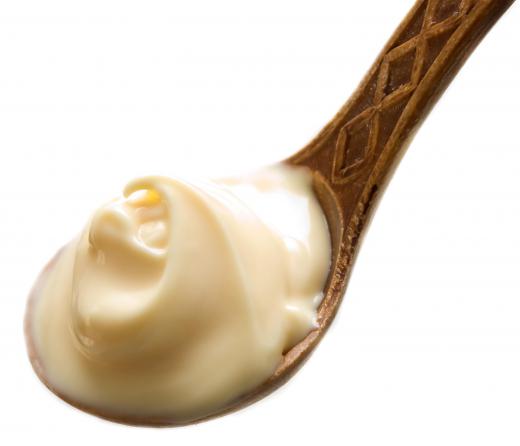 White chili is a unique specialty that is prepared using a white sauce base. The sauce consists of onions, garlic, cumin, cooking sherry, chicken broth, cream, chilies, jack cheese, sour cream, cilantro, basil oregano, thyme and cayenne. Chicken breasts, Spanish olives and white hominy are added to the sauce to create a nice consistency. It can be served as a chili dish or as a dip with tortilla chips.
Mexican white sauce is served drizzled over fish tacos, chili rellenos, chicken enchiladas, veggies, and green fried tomatoes. Whenever a cook wants a lighter sauce, this alternative can substitute a Mexican red sauce. For vegans and people who are lactose intolerant, silken tofu can be substituted for dairy products.
For those recipes that are served chilled, it is good to let the sauce flavors blend in the refrigerator for a few hours before serving. For recipes that serve it warm, most suggest using a double boiler and only warming the sauce as it can split if it gets too hot.
AS FEATURED ON:
AS FEATURED ON:








By: Viktor

Sour cream is an ingredient used in mexican white sauce.

By: Alexandra

Mayonnaise is a common ingredient in Mexica white sauce.

By: Joshua Resnick

Mexican white sauce can be served over tacos.

By: Stuart Monk

White sauce can be used as a dipping sauce for tortilla chips.

By: Amber DeGrace

Mexican white sauce is often flavored with cilantro.

By: Arnold Gatilao

Hominy is added to white sauce to create the right consistency.

Wedge of gorgonzola cheese, which is often included in Mexican white sauce.

By: Jaroslaw Grudzinski

Cooking sherry, which is used to make Mexican white sauce.

By: osrodfe1

Queso blanco, which is included in Mexican white sauce.

By: Natika

Herbs like basil are a common addition to Mexican white sauce.

By: Cheryl Casey

Monterey jack can be used in a Mexican white sauce.

By: Taiga

Oregano is a basic ingredient of Mexican white sauce.