Miracle Whip® is a condiment manufactured by Kraft Foods. It can be used both as a salad dressing and a sandwich spread, like its closely related cousin, mayonnaise. The two foods are closely related enough to be topics of acrimony, as many people have a strong preference for one or the other. The condiment is typically available at large markets, and Kraft offers a number of packaging options including squeeze bottles for cooks in a hurry.
According to some accounts, the history of Miracle Whip® begins in 1931, when a man named Max Crosset developed a salad dressing he called "Mac Crosset's X-tra Fine Salad Dressing" in Salem, Illinois. Crosset used the dressing in his eponymous cafe, later selling it to Kraft Foods. The company disputes this, however, claiming that the recipe was developed in-house. Kraft introduced the condiment to the general public in 1933, at the Chicago World's Fair, where the company constructed a complete sterile kitchen enclosed in glass so that visitors to the fair could watch how it was made.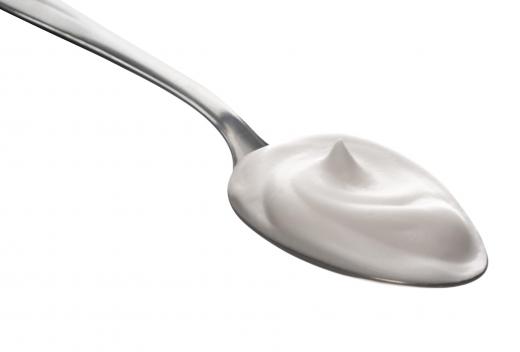 Kraft claims that this condiment is named for the machine that was developed to mass produce it. Like mayonnaise, Miracle Whip® is an emulsion of eggs, oil, and sugars, but it is somewhat tricky to blend the emulsion to the desired consistency. An enterprising engineer developed a machine that could blend the ingredients properly, dubbing it the "Miracle Whip," and the name apparently caught on with management.
This product has a naturally sweet flavor, which is noticeable if tasted side-by-side with mayonnaise. It is often used as a replacement for the other spread, because it is much lower in fat than traditional mayonnaise. Miracle Whip® can be spread on sandwiches, blended into salad dressings, mixed with other ingredients to create a dip, and used in a variety of other ways, depending on personal taste.
Many people have an opinion on the Miracle Whip® vs. mayonnaise debate. Often, individuals grow up in a household that eats one or the other, acquiring a fondness that is hard to break. The two products are in fact different, so it is perhaps not surprising that people sometimes express a strong preference for one over the other.
AS FEATURED ON:
AS FEATURED ON:








By: angelo.gi

Miracle Whip, which has the consistency of mayonnaise, is a sweet condiment for salads and sandwiches.

By: sumnersgraphicsinc

Some people prefer Miracle Whip over mayonnaise when making a sandwich.

By: marrakeshh

A dollop of Miracle Whip® can enhance a nutritious salad that's made with fresh greens and grilled chicken breast.