Mississippi mud is a chocolate dessert native to the American South, traditionally made with simple ingredients that would be readily accessible to most residents of the rural South. There are several variations on the classic Mississippi mud recipe, but in all versions, the chocolate is the primary focus of the dessert, and the dessert tends to be extremely rich. A slice of Mississippi mud is said to resemble the dense, nutrient-rich mud which lines the banks of the river which gives the dessert its name.
In one classic variation — the Mississippi mud pie — the dessert is prepared like a pie, in a crumbly chocolate crust. The filling is rich, dense, and very gooey, and the dessert is typically topped in vanilla ice cream to make the flavor even richer. Other cooks like to make a pudding filled cake which oozes filling when sliced open, with a "raft" of chocolate cake which floats on top of the dessert.
This dessert can also take the form of a simple chocolate cake with rich dark chocolate icing. Corn syrup is often used in the cake to make it especially moist and rich, and some cooks also add brandy or coffee to the batter for additional flavoring. The cake can also be frosted with a pudding frosting, which can be a messy endeavor, although it may more closely approximate the famous alluvial mud for which this dessert is named.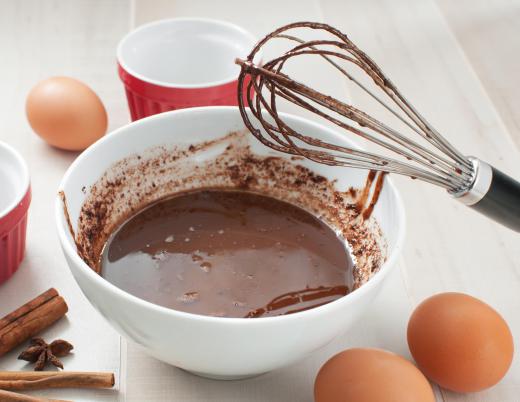 Like other rich chocolate desserts, Mississippi mud is usually best served in small slices, with guests taking seconds if they desire. It pairs well with brandy or hot coffee, both of which can help to cut the heaviness of the dessert, leaving the guests with a slightly less bloated feeling after the dessert course. Sweet liqueurs and wines should be avoided, as they can become cloying when paired with this naturally very sweet dessert.
Mississippi mud is commonly on offer in much of the American South, with cooks making their own regional variations. The Mississippi Brewing Company also makes a beer known as Mississippi Mud®, a black and tan beer which is supposed to be as rich and dense as the floodwaters of the Mississippi river. The tannish-colored head of the beer may remind some drinkers of the froth which builds up on the rough waters of the river in the winter, although purists argue that the beer is not quite as dark as true Mississippi floodwaters.
AS FEATURED ON:
AS FEATURED ON:








By: Michael Gray

There is no standard Mississippi mud cake recipe.

By: razmarinka

Some Mississippi mud cakes have a consistency similar to molten lava cakes.

By: Gresei

Mississippi mud cake pairs well with brandy.