Nam prik pao is famous for being the condiment that inspired a terror alert. One day in 2007 in London, a strange acrid odor filled the streets, causing civilians to duck inside for cover and to report a possible chemical attack. When firefighters responded, they discovered a wok of chilies that were in the process of being toasted for the purpose of making the condiment. The Thai kitchen staff were confused at first, but once matters were sorted out, they were quite apologetic.
This chili-based condiment is a distinctive feature in Thai cuisine. It combines the Thai flavors of bitter, hot, sour, salty, and sweet in an intense marriage that pairs well with a wide assortment of foods, from plain white rice to pad thai. In Thailand, nam prik pao is eaten with a wide assortment of dishes, and it is a common offering at Thai restaurants the world over. Depending on the taste of the cook, the flavor may have an emphasis on the sweet or hot, with some versions getting quite fiery.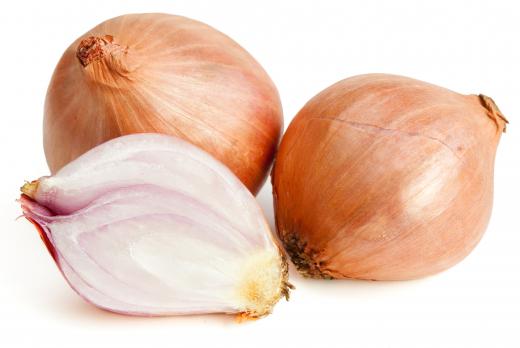 To make nam prik pao, most cooks start by dry roasting dried chilies to bring out their intense flavor, before grinding them in a mortar and pestle. Shallots and garlic are then thinly sliced and fried in a small amount of peanut oil before being cooked with a blend of fish sauce, shrimp paste, palm sugar, and sometimes tamarind paste as well. The chili mixture is added back in, and the mixture is allowed to briefly cook to thicken before being poured off into jars.
Like many condiments, nam prik pao is designed to have a long shelf life. Chilies are excellent preservatives, and when it is stored in a cool, dry place, this condiment can keep for an extended period of time. Small amounts are typically ladled out at once to satisfy a desire for its flavor; it is most typically added to cooked dishes, rather than being included in the cooking process.
It is possible to purchase nam prik pao from Asian grocers, and some Thai restaurants also sell their own. You can also make it at home, tweaking the balance of flavors to your satisfaction. If you have difficulty with hot foods, for example, consider using more sugar to balance out the intensity of the chilies, while fans of heat can include the seeds and membranes of the chilies for an extra kick.
AS FEATURED ON:
AS FEATURED ON:








Nam prik pao often includes shallots.

By: Schlierner

Garlic is an ingredient of nam prik pao.

By: rafcha

Palm sugar is an ingredient in nam prik pao.