What Is Oleoresin Paprika?
Oleoresin paprika is a food coloring agent used to color foods a deep red if they are in liquid form or contain liquid fat. It is a natural food coloring that is obtained by extracting lipids, or plant fats, and pigments from sweet red peppers. As a common food colorant, it is often used in the production of sausage, seasonings, and snack foods. Since paprika itself has a lighter reddish-orange natural color, it is this with the combination of the red pepper, Capsicum annuum L. extract that gives oleoresin paprika its ability to color foods a deep red.
As a natural dye, this substance is prepared in a variety of mixtures that give it a wide range of color shade abilities. On the American Spice Trade Association (ASTA) color scale for paprika, the higher the number paprika is rated at, the brighter the level of color. Domestic United States paprika, also known as capsicum, typically has a color rating of 60-160 with a typical value being 120. Sellers of oleoresin paprika however offer it at a ASTA color scale ranging from 500 to 3,500.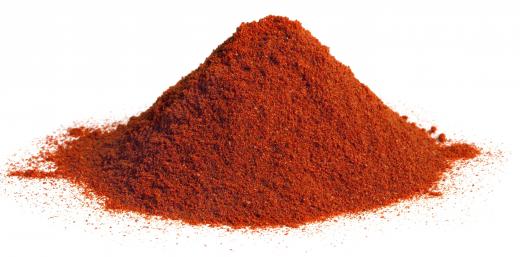 Food colorant can have a limited shelf life, and oleoresin paprika is estimated at being able to be stored for up to 18 months without losing any of its natural dye ability. It is normally stored as a dry powder or liquid paste with a slight odor to it. There are also tests to determine if it is in fact oleoresin paprika. One of the distinctive tests is to add two milliliters of sulfuric acid to a 0.5 gram sample. If it is pure, its color will change to blue.
Many popular foods are colored with oleoresin paprika, and it is sometimes referred to on labels in reverse, as paprika oleoresin. These foods include various cheeses, orange juice, and sauces, as well as meats and spices. It is used wherever red and orange colorings are desired, though there are other natural and artificial colorings in these ranges as competitors also.
One of the most unique uses for oleoresin paprika is that it is added to poultry feed in order to give the yolks in chicken eggs a darker yellow appearance than is natural for them. Due to the fact that is is derived from natural food sources as a food colorant, in the United States, it is exempt from Food and Drug Administration (FDA) certification. It receives equally lenient treatment under European law, where it is grouped with similar colorants of capsanthin and capsorubin.
AS FEATURED ON:
AS FEATURED ON:








Oleoresin paprika.