An opera cake is a French dessert noted for its delicate, intensely flavored layers. Believed to be created in the late 19th century by famed pastry chef Louis Clichy, the dessert later became known as L'opera, possibly because its many layers reminded patrons of separate operatic "acts." A traditional opera cake is comprised of almond-flavored sponge cake, coffee buttercream, chocolate ganache, coffee syrup, and a chocolate glaze.
Though the birth of the opera cake is traced back to Louis Clichy, the fame of this delicate cake is linked with Dalloyau Paris, one of the oldest bakeries in France. Dating back to the late 17th century, Dalloyau re-popularized the opera cake in the mid-20th century, creating a signature version soon copied throughout the world. One distinguishing element of the original dessert is an edible gold square that sits atop the dessert. Imitation versions that use similar recipes often include the gold square made famous by Dalloyau.
The base of the opera cake is an almond-flavored sponge cake. Using a real sponge recipe is vital to the texture of the cake, since it must be able to absorb a significant amount of moisture from the other ingredients. Though exact recipes vary, many use a batter that requires stiffly-beaten egg whites and ground almonds, creating a dry texture that will hold its shape even while damp. When the cake is assembled, a coffee-flavored syrup is poured on top of each layer of sponge, deeply infusing the dessert with a rich mocha flavor.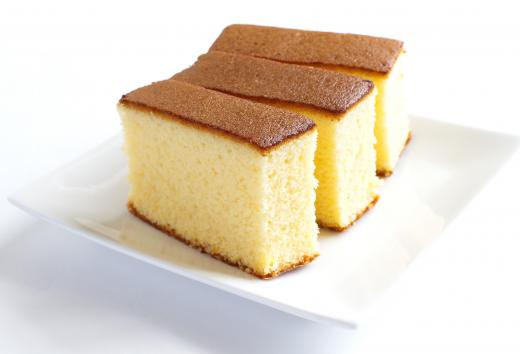 The chocolate and coffee creams that provide the rich, creamy flavor of the cake are simple recipes that benefit from superior ingredients. Some recipes call for the use of instant espresso to make the coffee buttercream, but strong-brewed coffee can work just as well. A simple way to make it is to microwave heavy whipping cream until it simmers, then pour it over an equal amount of good-quality semi-sweet or bittersweet chocolate. After the chocolate melts, the ganache can be stirred to the desired consistency, or refrigerated for two hours and whisked to make a light, fluffy ganache. A time-saving maneuver is to reserve half of the initial, thin ganache for topping the cake, while cooling and whipping the other half to fill the cake.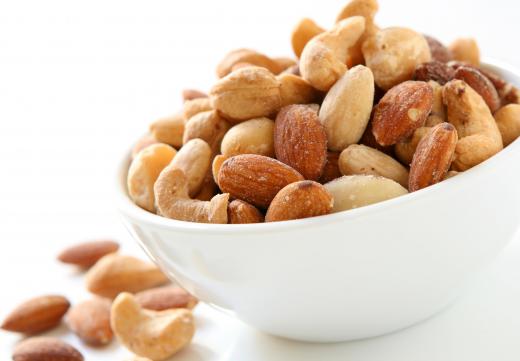 To assemble the cake, the almond sponge is first sliced into three thin layers, which will each be topped with coffee syrup. Traditional opera cakes are layered from bottom to top as follows: sponge, coffee buttercream, sponge, chocolate ganache, sponge, chocolate glaze. The cake is then refrigerated for several hours to allow the glaze to firm.
AS FEATURED ON:
AS FEATURED ON:








By: auremar

The base of opera cake is an almond-flavored sponge cake.

By: torsakarin

Sponge cake is used for opera cake.

By: JJAVA

Many versions of opera cake use a batter that features ground almonds.