Ganache is a rich mixture of chocolate and cream that can be used as a frosting or filling. Depending on the intended use, different ratios of chocolate to cream are used, to create anything from a light glaze to a dense standalone truffle. Although this mixture is remarkably rich and luxurious, it is extremely easy to make.
The evidence suggests that ganache was developed in the mid-1800s, although both France and Switzerland claim the credit for the invention. In either case, it quickly spread into European dessert making. To make it, heavy cream is brought to the boiling point and then poured over chunks of chocolate. The mixture is stirred so that the chocolate melts, and the result is a dense chocolate cream. Adding butter or oil will make it highly glossy, as is sometimes desirable for frosting. Liqueurs and other flavorings can be added as well, if desired.
If the cook uses one part cream to every three parts of chocolate, the result will be a chocolate glaze that can be used like a chocolate frosting. This glaze can be rather elegant, and it is especially popular for tortes and other rich chocolate dishes. As it cools, the ganache will become more stiff, but it can easily be reheated, if needed. The addition of small amounts of coffee or orange can also radically change the flavor profile, if desired.
Using one part cream to two parts of chocolate yields a very rich, dense chocolate filling that can be used in truffles and other candied desserts. This version can also be lightly rolled in cocoa powder and served plain, like a truffle. For a lighter filling, the ratio is one to one, and this type is good for layering in cakes and similar desserts.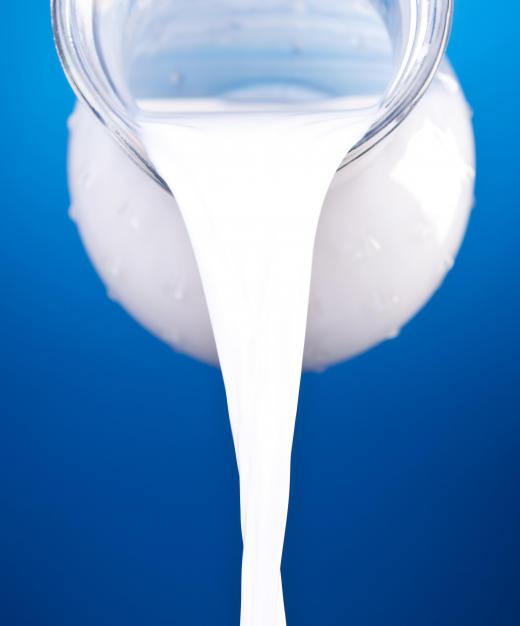 Different types of chocolate yield various styles of ganache, from bittersweet to white. As a general rule, it is a good idea for cooks to use high quality chocolate, since the mixture is so simple that cheap chocolate will mar the flavor. Especially when the glaze or filling is being paired with a rich, luxurious cake, this cheapness can become glaringly obvious. A baker who is glazing a cake with ganache may want to try adding ornaments like marzipan flowers for extra elegance, or dust the cake in cocoa powder for more visual texture.
AS FEATURED ON:
AS FEATURED ON:








By: Luisa Contreras

Chocolate ganache.

By: laperla_777

Ganache is used as a frosting or filling for desserts,.

By: Viorel Sima

Heavy cream is used to make Ganache.

By: Stephen VanHorn

Thick ganache is used to fill truffles, while they are coated with a lighter ganache on the outside.