Peach champagne is a carbonated light alcoholic fruit drink that often comes already mixed and bottled from both large and small champagne distributors as well as some wineries. Several brands of this flavored champagne can be ordered online if not locally available. It is also a base for several types of flavorful champagne cocktails that can range from tart to bitter according to the added fruit ingredients. Those who prefer to make their own signature beverages for entertaining can easily mix their own versions of peach champagne as well.
The taste and color of peach champagne can vary according to the type of champagne used as a base and the type of added peach flavoring. Some manufacturers use sweeter pink champagne while others prefer a drier kind that is typically pale yellow in color. Some brands of this peach alcohol add concentrated flavor extracts, while others use natural peach juice. A few brands of peach champagne may add other fruit flavorings, such as raspberry, as well.
Home mixologists who like to make their own cocktails from fresh ingredients can easily mix their own peach champagne. Many of these recipes call for a combination of peach puree or nectar rather than peach juice with unsweetened champagne. One of the most popular versions of this peach drink is the Bellini, an Italian peach champagne cocktail that traditionally requires blended nectar from white peaches, simple syrup, and dry champagne that has minimal carbonation. Mixing these ingredients well enough can take some practice, but fans of this classic drink claim that it is worth the effort to learn.
Versions of alcoholic fruit drinks with peach can be quite different depending on the ripeness of the peaches. While purists often claim that only milder white fruit should be added to a Bellini, others can easily add their own twists to this popular drink. Riper yellow peaches can be used as a sweeter alternative, along with possible extras such as dashes of peach schnapps or grenadine. Some inventive bartenders can also add a sharper citrus taste to one of these champagne cocktails by mixing a small amount of fresh lemon juice with the blended peach nectar.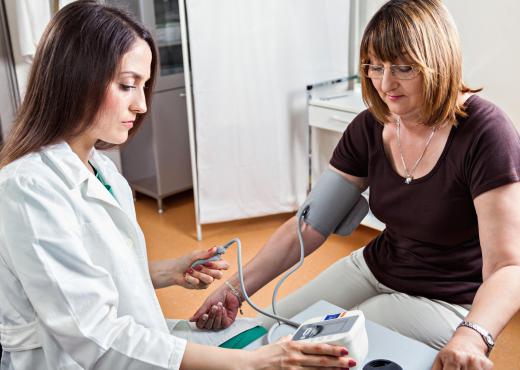 Experienced mixologists generally agree that the main trick to making a successful peach champagne drink is to mix all of the fruit nectar ingredients well. A good quality blender can often make this process quick and simple. The chilled champagne should usually be added just prior to serving the drinks.
AS FEATURED ON:
AS FEATURED ON:








By: Igor Normann

Peach champagne is used as a base in many alcoholic cocktails.

By: Pavel Losevsky

Commercially produced peach champagne is naturally carbonated during the fermentation process.

By: Dangubic

Excessive consumption of alcoholic beverages may lead to high blood pressure.