Schnapps is a spirit distilled from fruits, such as pears, apples, peaches, or cherries. Real German schnapps has no sugar added and is not particularly sweet, though it carries some of the flavor of its source fruit. The French eau de vie is in many ways analogous to this spirit, with its subtle fruit flavors.
Although true schnapps is simply distilled fruit juice with no sugar added, the word is often used — especially in the United States — to refer something fairly different. This type, really more like a liqueur, usually has a substantial amount of sugar and additional flavoring added and is quite sweet as a result. Some types, such as butterscotch schnapps, are not distilled from their flavor source — distilling butterscotch would be rather difficult — but instead use a base alcohol and add flavor. Even many American schnapps that could be distilled from a fruit juice are instead made by steeping the fruit in a base alcohol, such as vodka.
Like vodka, gin, rum, and many other hard alcohols, schnapps is usually 40% alcohol (80 Proof). It is rarely found at higher proofs than this, though it is not uncommon to find varieties at 30% alcohol (60 Proof), or even lower. This spirit is often drunk on its own, either neat or with ice, and different flavors are used in a wide range of mixed drinks.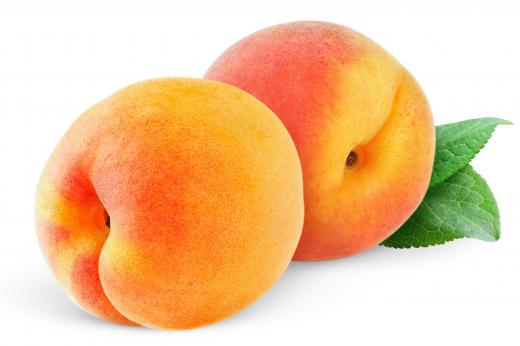 It could be said without much exaggeration that there are as many flavors of schnapps as there are flavors of soda. While some, such as peach, apple, and cherry, are derived from the juices of a real fruit — or at least could be, if a traditional process were used to make them — others, such as cinnamon and peppermint, have no source in the world of fruit. Still others, such as butterscotch and root beer, are even more far-fetched. Because of their relatively low price, uncomplicated sweet flavors, and a perceived silliness about them, sweet schnapps are a staple in many mixed drinks. While rarely seen in more traditional or serious mixed drinks like Martinis or Manhattans, various flavors abound in drinks with names like the Hot Peppermint Patty, the Slippery Nipple, the Fuzzy Navel, and the Guillotine.
AS FEATURED ON:
AS FEATURED ON:








By: xiangdong Li

Apples can be used to make schnapps.

By: Anna Kucherova

Peaches can be used as the base for schnapps.

By: Natika

Cinnamon is a common flavoring for schnapps.

By: epantha

Pears can be distilled to make schnapps.

By: redav

Apple schnapps is used to make appletinis.

By: gmf1000i

Although Schnapps is a spirit distilled from fruits, it comes in root beer flavor.