Peach schnapps is an alcoholic beverage made from distilled peaches, and generally contains around 20 percent alcohol. Schnapps can be made from many different fruits, but peach is generally the most popular type of schnapps. The drink can be served as a part of many different cocktails, most notably Sex on the Beach, a fruity concoction available in bars around the world.
Peaches grow on trees and are a member of the same fruit family as apricots, plums and cherries. They are generally warm, blushing pink in color, but often also have patches of yellow-green on their skin. The center of the peach is made up of a large stone, which is the fruit's pip. This can contain hydrogen cyanide, and as such is sometimes toxic. Peaches have a sweet flavor, and are often used to flavor ice cream and sweets. In addition to schnapps, peaches can also be used in liqueurs, wine and brandy.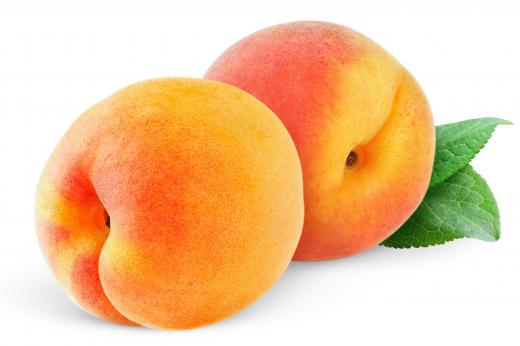 Schnapps can be made quite easily within the home if done with a base of vodka for the alcohol. To make peach schnapps, the fruit is peeled, cut into quarters, and put into a glass container. Vodka is poured over the top of the peaches, and the container covered with a tight fitting lid. This mixture has to remain at room temperature for one to two months, in a dark place. The mixture should occasionally be shaken, and can be tasted at any point during the process. It is then aged in a dark room for a final month before serving.
As a sweet-tasting and relatively cheap alcohol, peach schnapps is used in a variety of cocktails. In addition to Sex on the Beach, it can be used in cocktails such as a Fuzzy Navel, Key West Cooler, Woo Woo and Brain Hemorrhage. Technically, this beverage can be termed as a liqueur, along with other drinks such as amaretto.
The alcohol can also be used in some food dishes, but is more suited to desserts. Savory foods that go well with peach schnapps include veal, pork, lamb and blue cheese. There are many desserts that include peach schnapps, and the alcohol can be used in ice creams, pies, muffins and even cookies. Peach schnapps can be used in place of peaches to add an alcoholic twist to any dish.
AS FEATURED ON:
AS FEATURED ON:








By: Anna Kucherova

Peaches.

By: dla4

Peach schnapps can be made at home using vodka as a base.

By: Hoda Bogdan

Peach schnapps is used in a variety of mixed drinks.

By: Andres Rodriguez

Peach schnapps often contains 20% alcohol, which makes it 40 proof.

By: Dangubic

Excessive consumption of alcohol, such as peach schnapps, may lead to high blood pressure.