A pepper loaf is a type of cold cut which is made by mixing cooked meats with peppers and then tightly compacting them into a loaf. The loaf is typically served cold, sliced and used on sandwiches and in appetizers. It is also possible to make warm pepper loaves which more closely resemble meat loaves, for use as a hearty main course. Many delis sell pepper loaves along with other cold cuts, and it is also possible to make this specialty at home.
Most commonly, a pepper loaf is made with mixed beef and pork, although other meats can be used as well. The meats are cooked and shredded or ground so that they have a uniform texture before they are mixed together with any desired spices. Some cooks make the dish with cracked black peppercorns, while others prefer more mild bell peppers. It is also possible to use chili peppers for an extra-spicy flavor.
Once the ingredients have been mixed, they are packed together to form a loaf. For a more meat loaf like experience, the meats are mixed with eggs and breadcrumbs and cooked, but it is also possible to make a pepper loaf more like a sausage, with tightly compacted ingredients which are slowly cured to bring out their natural flavors. Many sausage producers make pepper loaf, since they already have the sausage making tools to do so.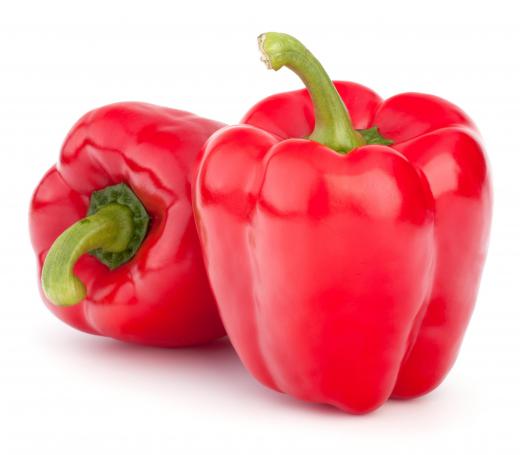 If a pepper loaf is cured, it may be able to keep at room temperature for an extended period. Other pepper loaves need to be refrigerated to keep them safe to eat, and they may keep for a period of weeks until they are opened. When a meat loaf style dish is made, it should be eaten within a few days.
This deli meat comes in a wide range of flavors from mild to spicy, and in some instances it resembles a sausage more than a loaf of meat. In all cases, as soon as the loaf has been cut, it should be quickly used, as the meat can start to go bad. Since many pepper loaves are fairly sizable, you may want to wait for a party to crack open a pepper loaf to ensure that it gets quickly eaten. The loaf is suitable for sandwiches, buffet platters, and other situations in which cooks might use cold cuts.
AS FEATURED ON:
AS FEATURED ON:








By: epantha

Jalapeno peppers can give a spicy kick to pepper loaf.

By: Natika

Mild sweet bell peppers can be used in a pepper loaf.

By: Giuseppe Porzani

Some recipes call for chili peppers.