What is Macaroni and Cheese Loaf?
A macaroni and cheese loaf can mean different things to different people. For some, it is a very simple way of preparing standard macaroni and cheese in a different and sliceable form. In these most basic of recipes, people use only mac and cheese, place it in a greased loaf pan, and bake it. Time for baking tends to depend upon the size of the loaf. As the loaf bakes, it tends to solidify, so that it can be served in slices.
For other people the macaroni and cheese loaf is a combination of meat loaf and mac and cheese, also prepared at home. A portion of meat, ground beef, turkey or pork, is mixed with traditional meat loaf flavorings, and is then combined with mac and cheese, placed in a loaf pan and baked. This can be a good way to stretch a little bit of meat, since a larger amount of mac and cheese will make up at least half the loaf. Some people do not combine the ingredients, but instead bake the mac and cheese either below or above a layer of meatloaf, so you have different textures in the slices.
Another type of the macaroni and cheese loaf is a commercially prepared type, made by companies like Koegel's Meat Company®. This is similar to the macaroni and cheese meat loaf prepared at home, but is often used as deli meat, and can be used to make sandwiches. Koegel's, for instance, combines beef and pork, spices, and mac and cheese, forms the combined ingredients into a loaf, and then smokes the mixed ingredients.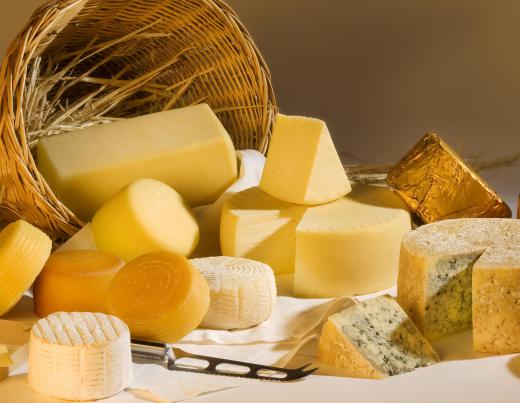 The result is semi hard deli meat that can be used to make sandwiches. This type of macaroni and cheese loaf may be a little hard to find. Koegel's is located in Michigan for instance, and you may have trouble finding its products in any place except for the surrounding states and a few specialty stores.
The deli version of this dish, and in fact any version is not exactly a calorie lightweight. Depending upon the mac and cheese you use, especially in the more commercially processed forms, you can expect high simple carbohydrates, relatively high fat, and often high sodium. If you'd like to try a simpler and less caloric loaf, you can substitute whole wheat pasta for white, and use low fat cheddar rather than high fat cheddar or American cheese as your base ingredients. If you'd like to use meat in your macaroni and cheese loaf, consider low fat ground turkey as the least fatty choice.
AS FEATURED ON:
AS FEATURED ON:








By: Bert Folsom

Cheddar cheese is often included in macaroni and cheese loaf recipes.

By: manuart

Some versions of macaroni and cheese loaf call for smoked Gouda or another flavorful cheese.