Ratatouille is considered one of the most fulfilling, simple, yet comforting peasant dishes in Europe. The Spanish cuisine equivalent of this savory vegetable dish is known as pisto. The hearty, warm dish is often made from whatever vegetables are on hand, including onions, tomatoes, zucchini, eggplant, and peppers.
Tasty tomato varieties, such as plum tomatoes, generally yield the best pisto. Though salt and pepper are the only required seasonings for a traditional recipe, any other spices can be used as desired. Fresh garlic is a common addition to the dish. Cumin, red pepper flakes, basil, oregano, and other herbs may be used as well. Some chefs even use sugar to sweeten the dish.
A bright, flavorful tomato sauce is the basis of pisto. The sauce is given an added richness through the addition of olive oil. Most people eat this chunky comfort food warm, served with bread and a fried egg. Some chefs, however, serve it cold, either by itself as an appetizer, or with a salad.
Pasta aficionados, particularly those of red sauces, might enjoy pisto over their favorite type of noodles. It can also be served atop rice. Empanadas and emanadillas, famous pastries and stuffed breads of Spain, can be filled with the vegetable mixture. It is a popular ingredient for sandwiches and crepes as well. Some people refer to the dish as a perfectly balanced meal.
To make a pot of savory pisto, start with some olive oil in a frying pan. Fry pungent ingredients, such as onions and garlic, first. Add diced peppers and cook over medium heat for five minutes, continuously stirring. Finish with diced tomatoes and any other vegetables desired, covering the pan to cook for 15 to 20 minutes.
Serve the dish cold as an appetizer, or hot as a main course. Ramekins, or other small dishes, are ideal for presenting this meal. The chunky stew may be topped with a freshly fried egg if desired.
Pisto is specifically part of Castilian-La Mancha cuisine. The dish originated in La Mancha. For this reason, the stew is sometimes referred to as pisto manchego.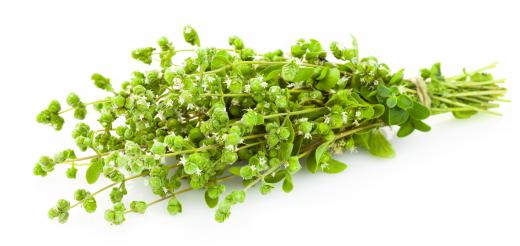 The term pisto is not limited to the culinary world. It has several slang meanings in different parts of the globe. Mexicans and Southwestern Americans sometimes use the term to refer to hard liquor. In Central American countries, such as Guatemala, Honduras, and El Salvador, the word translates to money.
AS FEATURED ON:
AS FEATURED ON:








By: fotomatrix

Zucchini, one of the ingredients in pisto.

By: Natika

Onions are often part of a pisto.

By: Taiga

Oregano can be added to pisto.