Rice milk is one of several types of milk that are made from grain and can be used as substitutes for animals' milk. No animal products are used during the production of this beverage, so most vegans and vegetarians consider it an acceptable alternative to animals' milk. It also does not contain lactose, so it is suitable for people who are lactose-intolerant, and it can be used to create dairy substitutes such as coffee creamers and ice creams. Although it has very little protein, it does provide carbohydrates and is often fortified with essential vitamins.
Many health food stores sell grain milks, and common grocery stores might carry them in designated areas. Some is shipped in paper containers similar to those containing cow's milk and is kept refrigerated to prevent spoilage. Other producers ship it in aseptic containers, which eliminate the need for it to be refrigerated before it is opened. Rice milk generally has a shelf life of nine months or more before it has been opened and one to two weeks after it has been opened.
Making It at Home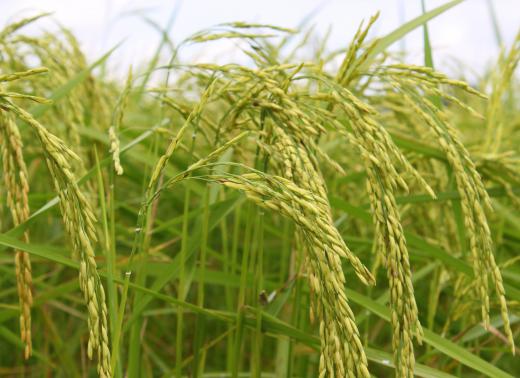 In some countries, commercially made rice milk — especially the refrigerated versions — can be expensive because of a combination of shipping costs and low demand. In response to these higher retail prices, many people create their own versions at home. There are many recipes available online or in vegetarian cookbooks, but the basic ingredients usually are cooked rice, water, sea salt and vanilla. After the cooked rice and water are mixed in a blender, the mixture is often strained through a cheesecloth to remove sediments. Sea salt, vanilla and sometimes other flavors or spices, such as cinnamon or chocolate, can then be added.
Switching from Cow's Milk
When someone switches from using cow's milk to using rice milk, it might take some time to get used to the differences. There is very little natural fat in the liquid made from rice, although some manufacturers compensate for this by adding natural thickeners, such as carrageenan or tapioca. It also can be fortified with extra vitamins and minerals, although not to the same degree that cow's milk typically is. Giving children the chocolate- or vanilla-flavored rice milk that is sold in stores might be a good way to introduce them to alternative grain milks. Experts suggest that experimenting with different brands and flavors can help a person find the one that best suits his or her family's needs.
AS FEATURED ON:
AS FEATURED ON:








Rice plants.

By: airborne77

Rice.

By: picsfive

A pitcher of rice milk.

By: lculig

Carrageenan powder, which is sometimes used to thicken rice milk.

By: JLV Image Works

Rice milk can be substituted for cow's milk in a milk shake.

By: uwimages

Salt is often added when making rice milk.