Through the centuries, Russia has developed a range of traditional soups to make good use of its most prevalent resources, from the beets of borscht to the cabbage of shchi. The latter recipe literally translates to "cabbage soup," but actually has more than just cabbage in it. This soup often contains meat, but it can be vegetarian as well. It also can be made with fresh, green cabbage or the pickled version known as sauerkraut, or both.
Russians have enjoyed shchi for at least 11 centuries. Though many famous residents, from Ivan the Terrible to Joseph Stalin, have admitted to being fans, it is generally considered to be a lower-caste recipe. It keeps well, is cheap to make, and cooks fast — though some even prefer it as a cold soup, called gazpacho.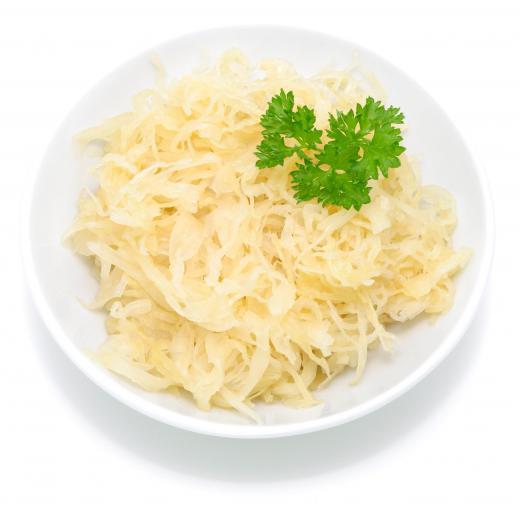 Even though shchi can be made on the fly with just a few ingredients, most modern cooks prefer several ingredients to make the soup nutritious and flavorful. These may include mushrooms, potatoes, turnips, carrots and celery, in a beef or vegetable stock thickened and made slightly tart by tomato paste. Though either shredded cabbage or sauerkraut can be added, many chefs use equal parts of both to make the soup both sour and sweet.
The process of making shchi is as straightforward as most stock-based soups. One method involves boiling the meat in a hot pan of water, along with some garlic, diced onions, bay leaf, salt and pepper. The meat can be covered and steamed until cooked through, then shredded from the bone for later placement in the soup. This also creates the stock that will form the soup. Most types of meats are acceptable, including lamb, beef, pork or even chicken.
As the stock is brought to a boil, with the meat in pieces and resting to the side, vegetables like chopped onions, celery, potatoes, carrots, shredded cabbage and sauerkraut are tossed into the mix. The heat is then reduced to a simmer. After about 15 minutes, chopped tomatoes or tomato paste is stirred into the stock, along with the meat, which is allowed to meld with the other flavors for at least five minutes. Before serving, the chef will taste the final product, adding salt and pepper as needed.
Using only cabbage will create a shchi with less of its distinctive sour taste, while using only sauerkraut will intensify that component. In any case, it is typically served hot, with few exceptions. Many also scoop on some sour cream as a garnish, along with a few sprigs of dill.
AS FEATURED ON:
AS FEATURED ON:








Shchi is often served with sauerkraut.

By: Viktor

Sour cream may be used as a garnish with shchi.

By: Morgenstjerne

Borscht is one of the most well-known Russian traditional soups.

By: andersphoto

Celery may be added to the shchi stock.

By: kushniras

Joseph Stalin was said to have enjoyed shchi, although it was considered a lower-caste recipe.