Shumai is a steamed or fried dumpling that originated in China. Known as siomai in the Philippines, siomay in Indonesia and shuumai in Japan, the fillings for shumai vary by region. In China, and especially in Cantonese cuisine, this little appetizer is a staple of many diets.
A type of dim sum, shumai is believed to have originated in the inner Mongolian region of China known as Hohhot. In its basic state, a wonton wrapper made from flour and water is filled with finely ground pork, onion, and ginger. The shumai dumpling is then folded into a purse shape, allowing the filling to peak through the top, and steamed or pan fried until cooked through.
In the Philippines, siomai is typically filled with any type of ground meat along with peas and carrots, and then fried to a golden brown. Immediately before serving, it is topped with a spicy garlic oil or soy sauce. While the siomai dumpling is commonly wrapped in a traditional wonton wrapper, different types of edible seaweed are also used, especially in higher-end restaurants.
Siomay, the Indonesia version of shumai, is usually filled with fish and a variety of vegetables. In most cases, the dumpling is steamed rather than pan fried and served with a peanut sauce. Tuna is the most common fish used to fill the siomay dumpling, although mackerel and shrimp are also popular. Siomay is nearly as prevalent in Indonesian cuisine as it is in Cantonese cuisine; this dumpling is served by both upscale restaurants and local street vendors.
Shumai can also be found in Japan, where it is refereed to as shuumai. Filled with pork and rice, it is seasoned with rice wine vinegar, sugar, and soy sauce. In Japan, shumai is not considered a finger food. In most cases, this steamed or fried dumpling is nearly two times larger than the Chinese, Philippine, or Indonesian versions.
In Cantonese cuisine, shumai is known as siumai. In this variant, the dumpling is filled with ground pork, minced shrimp, and black mushrooms. It is served for lunch and dinner and can be found in nearly every restaurant. Rather than a wonton wrapper, the skin is typically made from a mixture of wheat flour and lye water, with the liquid extracted after soaking wood ashes in water. Once cooked, the center of the dumpling is often decorated with a single pea, tiny bit of carrot, or a fish egg.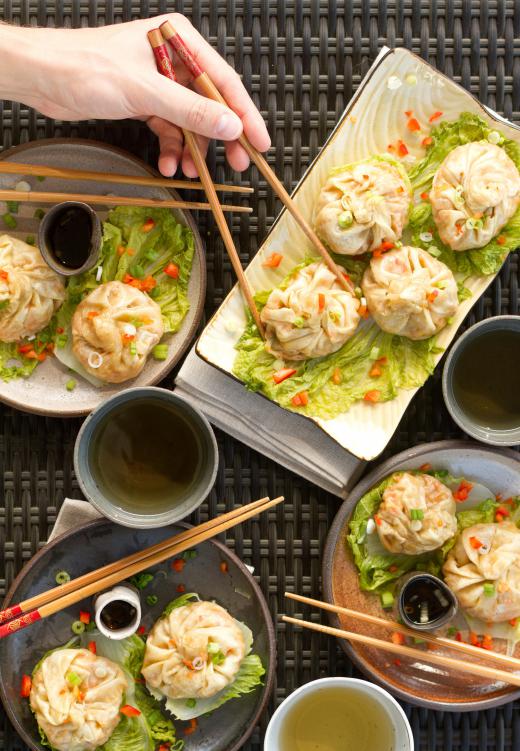 Variations of this food are found all over the world. As with many dishes, it has been adapted and altered to meet the cultural preferences of the region. Served as a snack, appetizer, or light lunch, this type of dim sum is considered a staple in many cuisines.
AS FEATURED ON:
AS FEATURED ON:








By: Robin

Lye water, which is used to make shumai.

By: Sasajo

In the Philippines, siomai is typically filled with ground meat, peas and carrots before frying.

By: pavalena

Shumai is believed to have originated in China.

By: ginauf

Shumai dumplings are usually made using steamed wonton wrappers.