Soba is the Japanese word for buckwheat, although it has come to be used to refer specifically to buckwheat noodles, an integral part of Japanese cuisine. The noodles are served both hot and cold in a variety of dishes and can be found all over Japan. Asian specialty stores also carry them, and many major markets stock it as well. The nutritious and delicious buckwheat noodle has a distinctive taste which is very appealing to some consumers.
The noodles have a brown to grey color, depending on the percentage of buckwheat used to make them. Because pure buckwheat noodles tend to fall apart when cooked, most soba is made with a binder, such as wheat or rice flour. Generally, they are more highly prized if they have a higher buckwheat content. Individuals with gluten intolerance often seek out gluten free soba as a pasta replacement, as buckwheat is naturally gluten free, although they must be careful to make sure that wheat flour has not been mixed in.
Served cold, soba is a popular summer time dish and is often served as an appetizer before large meals. The most common presentation is zarusoba, cold noodles served with a chilled broth or soy sauce to dip them in. They can also be served with a variety of vegetables and other sauces, and are often found at Japanese restaurants running the gamut from casual to sophisticated. Oroshi soba, another type of cold dish, involves adding cold noodles to a chilled broth to make a cold soup, which can be quite refreshing in the summer.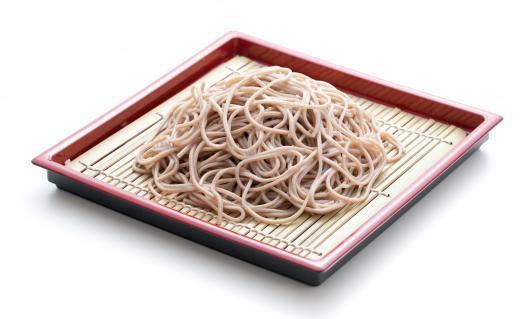 Soba is also eaten hot in a variety of preparations. The noodles are often served with a topping of fish or vegetables and a side dish of sauce to dip them in. Sometimes, they are added to broth to make a rich and filling noodle soup. They are also delicious plain with a simple sauce and make an ideal quick, tasty, and healthy meal. Some eating establishments mix soba and other noodles such as udon for texture and flavor variation.
Like other types of pasta, soba tastes the best when fresh. To make fresh noodles, buckwheat flour, water, and a binder are mixed together into a smooth, elastic dough. After mixing and resting, the dough is rolled out into a thin square, and cut into fresh noodles. The noodles can be sold fresh if they are going to be cooked within a few days, or they are dried and packaged for longer shelf life.
AS FEATURED ON:
AS FEATURED ON:








Soba noodles.

Plate of cooked soba noodles.

By: Vidady

Flour from the buckwheat plant is used to make the Japanese soba noodle.

By: womue

Wheat may be used as a binder for soba noodles.